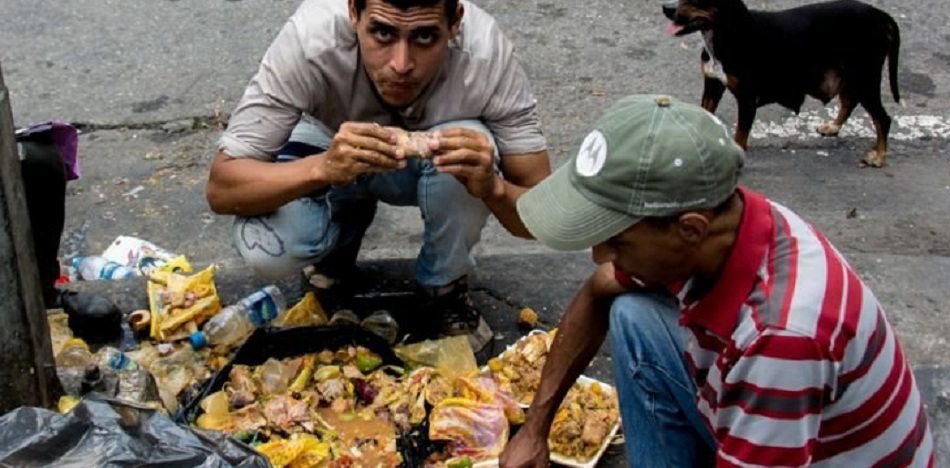 Español Venezuela has become nearly impossible, as hyperinflation continues to climb to unprecedented levels of nearly 4,000 percent.
In one year, the price of basic products has increased almost 4,000 percent, forcing many Venezuelans to survive on the lowest wages in the region. People rummage through the garbage, and the weakest and smallest die from malnutrition.
The country has fallen into humanitarian disaster due to the economic policies of the socialist regime that has caused the only legal currency — the bolivar — to collapse. Meanwhile, the value of the dollar rises or remains strong despite only being available on the black market. Until this Thursday, November 23, Venezuelans paid 81,759.98 bolívares for every dollar.
#Venezuela's annual inflation rate is 3826.45%. pic.twitter.com/FfDa9nupgM

— Prof. Steve Hanke (@steve_hanke) November 23, 2017
Earlier this month, a US dollar was worth 41,000 bolívares, whereas earlier this year, only 3,100 bolivars were needed to buy a dollar, according to DolarToday.
The economic policies of both Hugo Chávez and Nicolás Maduro were based around price and exchange controls that have created unprecedented shortages and strengthened a black market.
The "bachaqueros" of the black market, as they are called in Venezuela, stand beside long lines of people waiting to obtain regulated products at subsidized prices, and then resell them at exorbitant prices that forces citizens to buy them at increased prices without competition.
According to a report by Cendas, an NGO that measures the economic and social status of Venezuela, a spike in prices on the black market reached 5,594,119 bolívares (US $ 66) — a figure beyond the reach of most Venezuelans, because the minimum wage is 136,554 bolivars, or US $ 1.6.
Hyperinflation is due to the absence of actual income, a sharp fall in the production of the state oil company PDVSA below two million barrels and the use of black market currencies.
Economist José Toro Hardy has also referred to the critical situation faced by Venezuelans, shedding light on the gravity of the situation, and how things are likely to get worse in the near future:
"Venezuela produces only 30 percent of the food it needs," Economist José Toro Hardy said, "It has no dollars to pay its debts. It can't afford to import food and medicine. It has the highest inflation in the world. It is isolated and the regime has no strategy for dealing with any of these problems."
The crisis in Venezuela has even caused supporters of the regime to raise their voices. Former Vice President José Vicente Rangel admitted that the economic crisis is about to explode, and called the cost of living "unbearable."
In December, Venezuelans will need more than 20 minimum wage salaries to purchase all basic resources.
According to the Hanke-Krus Inflation Table, the situation in Venezuela is among the worst cases of inflation in world history. Hungary, between August 1945 and July 1946, saw its currency lose value so fast that prices doubled every 15 hours and daily inflation was 207 percent. Zimbabwe had a serious case, with a daily inflation of 98 percent between March 2007 and November 2008.
Hace 5 años las mandarinas costaban Bs 10 y me quejaba porque costaban 3 kilos por Bs 20.
Ahora las he visto en Bs 7.000.
La inflación se cuenta por decenas de miles por ciento. https://t.co/utCK2OQXF3

— LCD (@LuisCarlos) November 23, 2017
5 years ago mandarin oranges cost Bs10 per kilo I complained about that. 
Now I have seen them go for Bs 7,000. 
Inflation goes up by the ten-thousands.