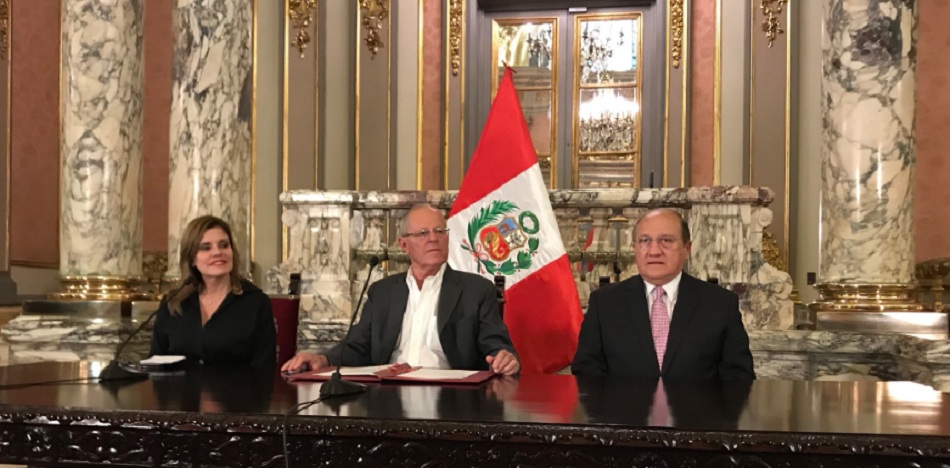 Peruvian president Pedro Pablo Kuczynski (PPK) has signed the first law that regulates the medicinal and therapeutic use of medical marijuana, an unprecedented decision in the country's history.
During the signing, PPK, who was accompanied by the premier Mercedes Aráoz and the Minister of Health, Fernando D'Alessio, stressed that "the government is in charge of supervising the operation of the law."
"Here we are breaking a myth, for that I congratulate those who have promoted the law, the congressmen Alberto De Belaunde, Tania Pariona and Gloria Montenegro," he said.
The president added that with the new regulation "Peru is turning several pages moving towards modernity"; he noted that the legislation dispenses with prejudices and myths on the subject.
PPK said, in addition, that it is now imperative to provide sensible and comprehensive enforcement of law, a process in which he called for all to participate in collaboration with the government.
Now it is expected that in at least 60 days the regulation of the law will be drafted to include the concerns of all civil society groups, among them, the mothers of the association "Wanted Hope", who were the precursors to develop artisanal medicinal cannabis.
At the ceremony, held in the Golden Hall of the Government Palace, attended the parliamentarians who promoted the rule and mothers who use medicinal cannabis for the treatment of their children.
And is that last October 20 the Congress of Peru approved by majority said law that regulates the use of medical marijuana.
The Parliament decided to accept the use, processing, distribution and research related to cannabis for therapeutic use.
The norm foresees that the Ministry of Health creates several official registers, one of them of reserved character that will consist of patients certified by doctors with information on the disease and the recommended dose. Patients with cancer, epilepsy or Parkinson's disease, among other terminal illnesses and chronic diseases, will benefit the most.
https://twitter.com/AlbertoBelaunde/status/931180762359091202
The Ministry must open an official registry of natural or legal importers or marketers, another of entities and laboratories authorized to produce and, finally, a list of entities dedicated to the investigation of cannabis and its derivatives for medicinal and therapeutic purposes.
This bill came to Congress in February, days after the National Police registered an informal laboratory in Lima that produced cannabis oil for medicinal purposes. The laboratory was an initiative of the Association Seeking Hope, which said then to group about 80 people who required cannabis for medical treatment.
Thanks to this approval in Congress, a final provision in the approved norm will be added so that the Public Prosecutor cancels the accusations for drug trafficking to the women who worked in the cannabis oil processing laboratory.
Sources: P21, El Comercio