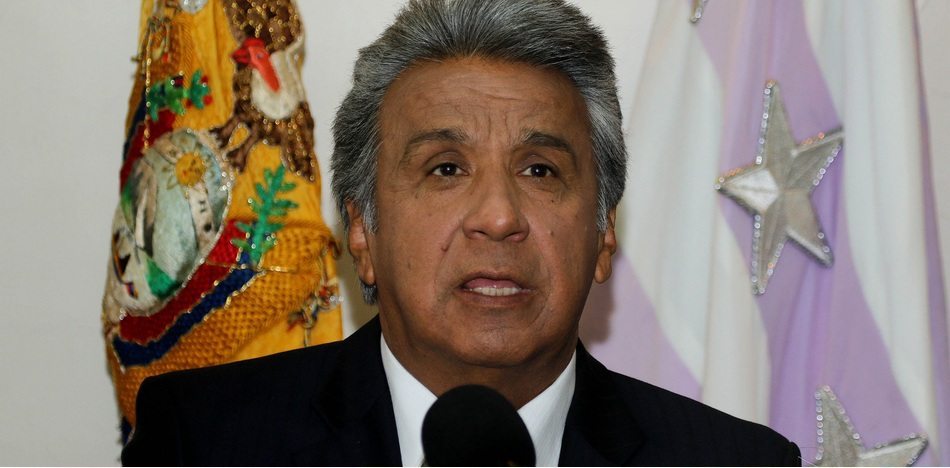 Español President of Ecuador, Lenin Moreno, has found himself in a difficult position after the party he is supposed to be leading, Alianza País, tried to remove him from party duties.
On Tuesday, November 7, the long-running friction between Moreno and high-standing members of the AP worsened when former Foreign Minister Ricardo Patiño and former National Assembly President Gabriela Rivadeneira, both of whom are close to former President Rafael Correa, decided to dismiss Moreno following his absence from council sessions.
The crisis in AP began when Moreno initiated dialogues with the opposition while also criticizing the difficult economic situation he inherited from Correa. On Monday, November 6, Moreno addressed the situation with certain members of the party and said that "they are not enemies":
"I will never use the power you have temporarily entrusted to me for hatred or quarrels," he said. "But I must ask everyone, without exception, to disarm our souls, to remove resentment from our hearts. Only a weak person feels hate! We are not enemies! Please. We are not enemies!"
Nunca utilizaré el poder que ustedes me han encargado momentáneamente, para odios o rencillas. #ElGobiernoInforma https://t.co/cN56HH9cqf pic.twitter.com/8ulxST2tdq

— Lenín Moreno (@Lenin) November 7, 2017
Correa tweeted his support of dismissing Moreno, whom he said he considers a traitor to the party. Meanwhile, a faction of the AP has started to refer to Correa as a "Commander" while ignoring Moreno altogether.
Efraín Arévalo, who describes himself as the National Coordinator of the "Revista Alfarista Correísta Espada de Bolívar," shared a video of around two dozen people pledging their allegiance to Correa while also announcing their support of Ricardo Patiño for new President of the AP.
Respaldo a @RicardoPatinoEC, declaramos persona no grata a @Lenin y nuestro respaldo incondicional a nuestro comandante @MashiRafael HLVS pic.twitter.com/MNCzDahDbd

— Efrain Arevalo (@efrainarevalo69) November 3, 2017
The conflict between Moreno and Correa has gotten so bad that the former President threatened to "return to the Presidency."
Additionally, he said that "Lenin has done in three weeks what the opposition could not do in 10 years — disqualify our revolution." He accused Moreno of "delegitimizing what was done (during the Citizen Revolution promoted by Correa) with a terrible betrayal."
According to Correa, Moreno's decision to hold dialogues with different sectors of Ecuadorian society and with the opposition as a "betrayal." He also described the Moreno's criticism of the economic situation he inherited from Correa as "disloyal."
Sources: La República, Ecuavisa.