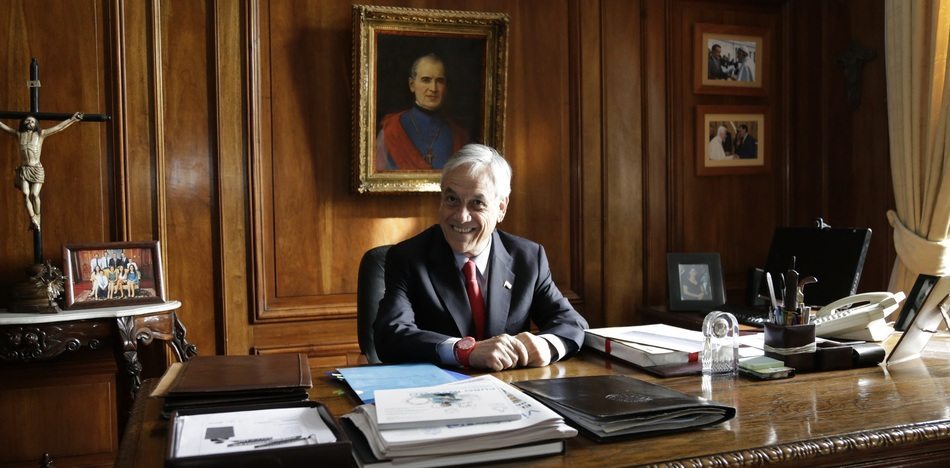 EspañolLatest polls in Chile show that Sebastián Piñera has a dead lead for the presidency. With just over three weeks until elections, the controversial politician has solid control of the country's support.
The Center of Public Studies reported that his lead has actually increased over the month, leaving the weakened candidate Alejandro Guillier without much hope.
A 25 días de las elecciones los invito a redoblar esfuerzo y compromiso por un Chile con #TiemposMejores. ¡Agradecido de su cariño y apoyo! pic.twitter.com/ps4Sqj9wFc

— Sebastian Piñera (@sebastianpinera) October 25, 2017
25 days away from the elections I encourage everyone to double our efforts and our commitment to Chile #BetterTimes I am grateful for your affection and support!
When asked who they would vote for if the elections were this Sunday, 44 percent of Chileans chose Chile's "Vamos" party candidate, Piñera, while only 19.7 percent said Guillier. Around 8.5 percent chose the Broad Front candidate, Beatriz Sánchez. Still, that means a second round of elections will be necessary, as experts said their positions are unlikely to change much so close to elections.
When pitted against Guillier or Sánchez, Piñera is predicted to get 39 percent of the country's support while his opponents get 27 and 23 percent, respectively.
Guillier is the most likely to go head-to-head with Piñera. Though he isn't doing exceptionally well in the polls, he was the favorite at the start.
Carlos Larraín, former President of the National Renewal Party, said that "all factors have been aligned for Sebastián Piñera to win." Larrain said the former President leads the right-wing coalition and hopes to seek deals with the Christian Democrats while putting together a new adminsitration.
"It was better for people under the Piñera government than with this current Bachelet mandate," Larraín said. "This government has done very badly."
The elections will be held next November 19, with the next president holding office from 2018 to 2022.