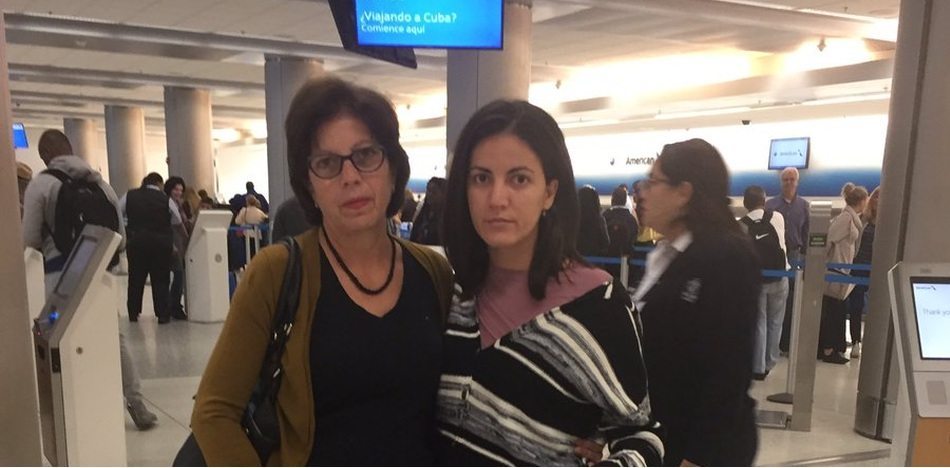 EspañolThe Raúl Castro regime in Cuba prohibited Ofelia Acevedo, the mother of opposition figure Rosa María Payá and widow to the late Oswaldo Payá, from entering the country this month. When Acevedo arrived at Havana's José Martí International Airport, officials reportedly turned her away.
Payá, an opposition leader and blogger, tweeted that she had to leave her mother behind when she came back to Cuba. Acevedo was forced to fly back to Miami. A customs and "immigration" official told Acevedo that her passport was active, but that she was on a "no entry" list. Acevedo and Payá had traveled to Cuba to look for information about the assassination of Oswaldo Payá.
Despido a mi madre rodeada por agentes de Seguridad del Estado: oficial Ángel Hernández la fuerza a tomar un vuelo a Miami desde La Habana.

— Rosa María Payá A. (@RosaMariaPaya) October 26, 2017
The blogger complained that officials tried to force her into another room, "away from the public eye," but they wouldn't allow it. The journalist announced that she had to say goodbye to her mother, who was forced to take a return flight to Miami in the United States.
Oswaldo Payá was a staunch opponent to Fidel Castro who was killed along with his ally, Harold Cepero. Payá won the 2002 Sájarov award.
Both men died on July 22, 2012, in a car accident while they were being transported by Spanish politician Ángel Carromero, a member of the Popular Party. The Payás family claims that the Castro regime is responsible for the deaths.
This is not the first time that the dictatorship has forbidden entry or exit to opposition leaders. On October 19, the regime prohibited a journalist they deemed a "counter-revolutionary" from leaving the country.
Víctor Manuel Domínguez attempted to fly to Brussels for an event regarding foreign investors in Cuba. He was prohibited from flying due to a "state security mandate."
In July 2017 alone, over 55 activists have been prohibited from traveling.
Sources: Cubanet, Voanoticias.