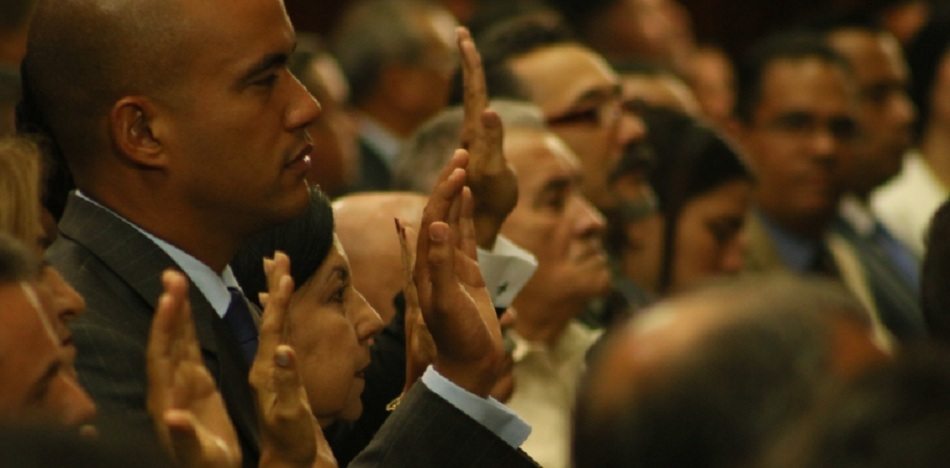 EspañolFollowing Venezuela's recent fraudulent elections, President Nicolás Maduro is looking to undermine the will of the people by declaring the election results "null and void" for any opposition governor that refuses to be swore in before the illegitimate National Constitutional Assembly he installed earlier this year.
Though the Venezuelan constitution establishes that governors-elect only have to be sworn in before a legislative council, Maduro is threatening to dismiss officials who refuse to follow his way of doing things.
#Táchira diputado del PSUV darán los argumentos legales del por qué Laidy debe juramentarse ante la ANC /imagino harán advertencia…

— Omaira Labrador (@omairalabradorm) October 19, 2017
#Tachira, congressman from the PSUV (United Venezuelan Socialist Party) will give their legal arguments for why Laidy should swear in before the national constituent assembly/I expect they will issue a warning.  
Local media reported that the legislative council of Táchira is waiting for the illegitimate constituency — led by Delcy Rodríguez — to nullify Laidy Gómez's victory because she did not appear before the Constituent Assembly.
If the election results are nullified, Maduro's regime will swear in an "acting governor."
Aún no van a juramentar como gobernador al diputado chavista. Esperan que ANC sea la que declare la falta absoluta de Laidy Gómez #Táchira

— Lorena Evelyn Arráiz (@lorearraiz) October 19, 2017
The swearing-in of a replacement governor has still not taken place. The country is still waiting to see if the Constituent Assembly nullifies the results.
In addition to Gómez, Juan Pablo Guanipa (of the state of Zulia), Antonio Barreto Sira (Anzoátegui), Alfredo Díaz (Nueva Esparta) and Ramón Guevara (Mérida) did not appear before the Constituent Assembly during the swearing-in that took place on Wednesday. That means each of these governors-elect runs the risk of being replaced.
This Wednesday, October 18, the Venezuelan opposition, represented by the Democratic Unity Roundtable (MUD), announced that their five governors-elect will not take an oath before the illegitimate Constituent Assembly.
A statement published by MUD said the opposition governors-elect will only submit themselves to what is established in the constitution, which says they should take an oath "before God and the legislative council" of each state. The statement also said that MUD and its governors-elect will ratify their "commitment to the will of the people expressed on July 16, when over seven million Venezuelans voted to reject the fraudulent constituency."
En horas, Constituyente de Maduro declararía "falta absoluta" en Gobernaciones ganadas por oposición tras no subordinarse a la ANC

— AlbertoRodNews (@AlbertoRodNews) October 19, 2017
BREAKING Legislative council of Táchira swear in new governor after Laidy Gómez refuses to submit to constituent assembly. 
Maduro constituency set to declare winners of gubernatorial elections "null and void" after refusing to submit to constituent assembly.