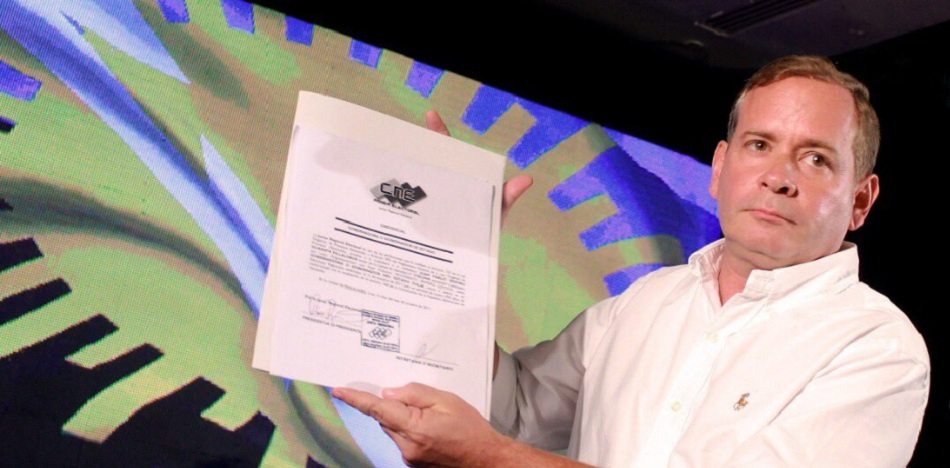 EspañolThe Venezuelan opposition, represented by the Democratic Unity Roundtable, announced that its five elected gubernatorial candidates will not be sworn in before Nicolás Maduro's illegitimate Constituent National Assembly.
A statement issued by the MUD said that elected governors of the opposition will only submit to what is established in the Constitution: they will be sworn into their positions "before God and the Legislative Councils" of each state.
The statement said that "MUD and its governors-elect ratify their commitment today to the will of the people expressed last July 16, where overwhelmingly more than 7.5 million Venezuelans rejected constitutional fraud."
#COMUNICADO: Unidad Democrática reitera que sus gobernadores solo se subordinarán a la Constitución y al pueblo #18Oct pic.twitter.com/PzGo6ePKY3

— Unidad Venezuela (@unidadvenezuela) October 18, 2017
Maduro had already announced before the elections that all the governors-elect would be sworn in before the Constituent Assembly, under the threat of being dismissed; however, those requirement are not established in any charter.
"The constituent power must be felt … it is my opinion as head of state … all the governors who are elected must be subordinated to the constituent power or else be dismissed immediately," Maduro said on September 8.
Regional congresses have also said that they will not recognize the governors who are not sworn in before the Constituent Assembly.
On Tuesday, Antonio Ecarri Bolívar, Vice President of the Democratic Action opposition party, which won four of the five governorships, said that the possibility of taking an oath before the Constituent Assembly was under consideration so as to not disregard the will of the voters who had elected them.
Sería un acto de traición a la Patria que gobernadores electos de oposición se juramenten con fraudulenta Asamblea Constituyente

— Ricardo Guanipa (@RicardoGuanipa) October 17, 2017
The swearing-in is scheduled for this Wednesday, October 18. Officials expect it to go forward without the opposition governors. If Maduro's regime arbitrarily dismisses the five elected candidates, it would once again be violating the Venezuelan constitution and disregarding the country's constitution.
The regional elections that took place last Sunday, October 15 were plagued with irregularities, handing a landslide victory of 17 states to five to the United Socialist Party. The National Electoral Council moved voting stations out of opposition areas and substituted candidates for others on the ballot, forcing many people to vote incorrectly or to invalidate their ballot.
Sources: Excelsior, Diario Las Américas, Prensa.