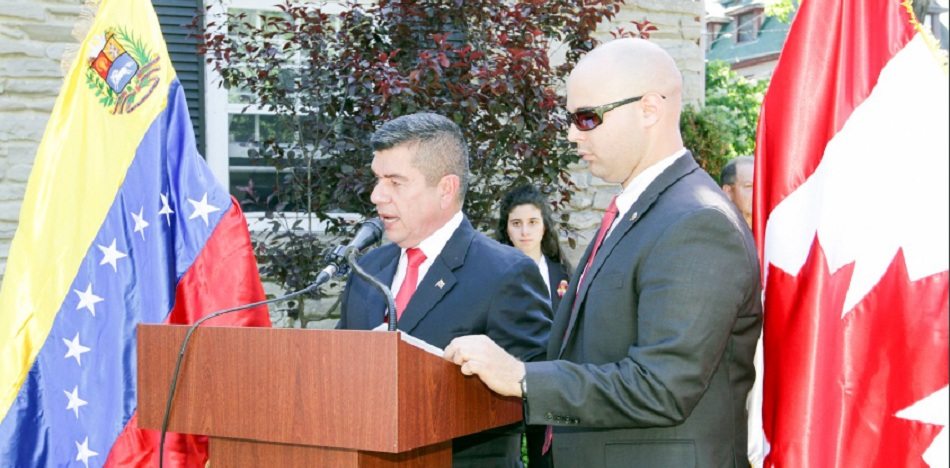 EspañolThe Maduro regime in Venezuela made a call to its ambassador in Canada for a "consultation" this week after the country, along with the United States announced that it rejected the results of the country's regional elections, which have been plagued with accusations of tampering.
Venezuelan Foreign Minister Jorge Arreaza reported on the measure, while Maduro called the Canadian government "insolent" for questioning the validity of the results of Sunday's elections, which gave the United Socialist Party control of 17 of 23 states.
Informo que el Presidente @NicolasMaduro ha decidido llamar a consultas a nuestro Embajador en Canadá, Willmer Barrientos.

— Jorge Arreaza M (@jaarreaza) October 17, 2017
"President @NicolasMaduro has decided to call our ambassador to Canada, Willmer Barrientos, for consultations," he tweeted.
"There goes the stupid government of Canada saying that they don't recognize the elections," Maduro said at a press conference this week. "What do I care whether Canada recognizes the Venezuelan election or not? We recognize it and we are independent and sovereign."
Justin Trudeau's Foreign Minister Chrystia Freeland said in a statement that "Canada is very concerned about the actions of the Venezuelan regime to make it difficult to hold free and fair elections, especially through the unconstitutional control of the National Electoral Council (CNE)."
Maduro replied: "I don't care. Canada can say whatever they want: The Canadian government is insolent and stupid."
Tensions have been high between Canada and Venezuela since September of this year, when the country sanctioned 40 members of the dictatorship. The US did something similar earlier this year, and was swift to speak out in response to Venezuela's state elections as well.
"We condemn the lack of free and fair elections yesterday in Venezuela. The voice of the Venezuelan people was not heard," US State Department spokeswoman Heather Nauert said.
Venezuela's National Electoral Council reportedly changed polling stations at the last minute, which prevented more than 300,000 voters from submitting a ballot. In other polling stations, indelible ink was not allowed, meaning that ballots could have been changed.
Sources: Diario Las Américas, El Impulso.