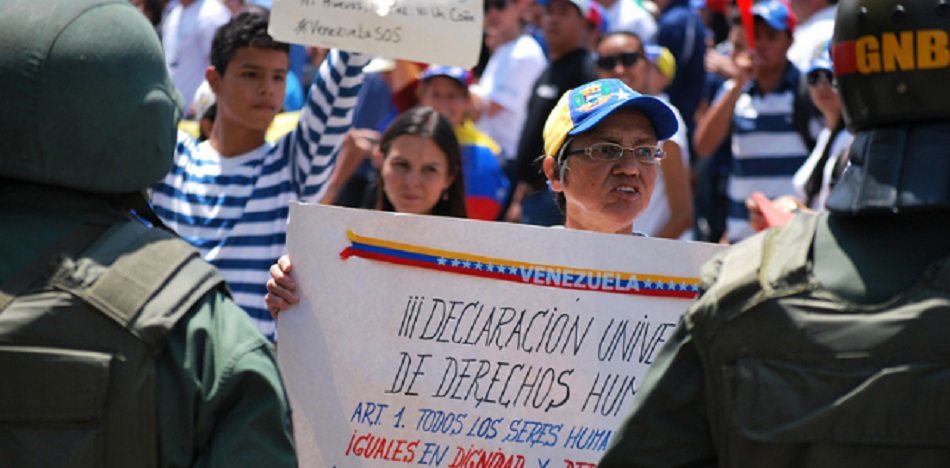 Español The United Nations released a list of countries that attack human rights defenders, and included Venezuela on it for a range of violations including intimidation tactics, travel bans, arrest, torture and the freezing of assets, according to UN Deputy Secretary-General for Human Rights Andrew Gilmour.
The UN's list also denounced a growing number of human rights defenders who are being subjected to retaliation for their efforts, as well as facing difficulties in cooperating with multilateral human rights organization.
The document mentions 29 countries in total, including Algeria, Bahrain, Burundi, China, Cuba, Egypt, Eritrea, Honduras, India, Iran, Israel, Mauritania, Mexico, Morocco, Burma, Myanmar, Oman, Pakistan, Rwanda, Saudi Arabia, South Sudan, Sri Lanka Lanka, Sudan, Tajikistan, Thailand, Turkey, Turkmenistan, the United Arab Emirates, Uzbekistan and Venezuela.
"It is abhorrent that we are forced to report cases of intimidation and oppression against people whose offense — in the eyes of their governments — was to cooperate with the institutions and mechanisms of the UN," Gilmour said.
The report, which is the eighth of its kind, covers cases that occurred between June 2016 and May 2017. Eleven of the 29 countries mentioned in the report are currently members of the UN's Human Rights Council. Others have appeared on the list every year since its creation in 2010.
The document urges all member countries to stop retaliating against dissenters, to investigate complaints, provide effective compensation and adopt and implement measures to ensure that such infractions are not repeated.
Vice President Mike Pence referred to and criticized the Council for keeping countries that violate human rights as members. The UN Human Rights Council "does not deserve its name," he said.
.@VP Pence: @UN_HRC atrae a muchos de los peores violadores de derechos humanos en el mundo — #Cuba, #Venezuela. pic.twitter.com/kSNQAaN2EK

— USA en Español (@USAenEspanol) September 20, 2017
@VP Pence: @UN_HRC attracts the worst violators of human rights in the world #Cuba, #Venezuela.
Pence specifically mentioned one of the members of the Human Rights Council, Cuba, and called it an "oppressive regime that has repressed its people and imprisoned political leaders for more than half a century." He also criticized Venezuela for being "a dictatorship that undermines democracy at every turn."
The United States has criticized the UN Human Rights Council before, but never has a Vice President so openly called for reform of the institution.
Sources: Sumarium, El Nacional.