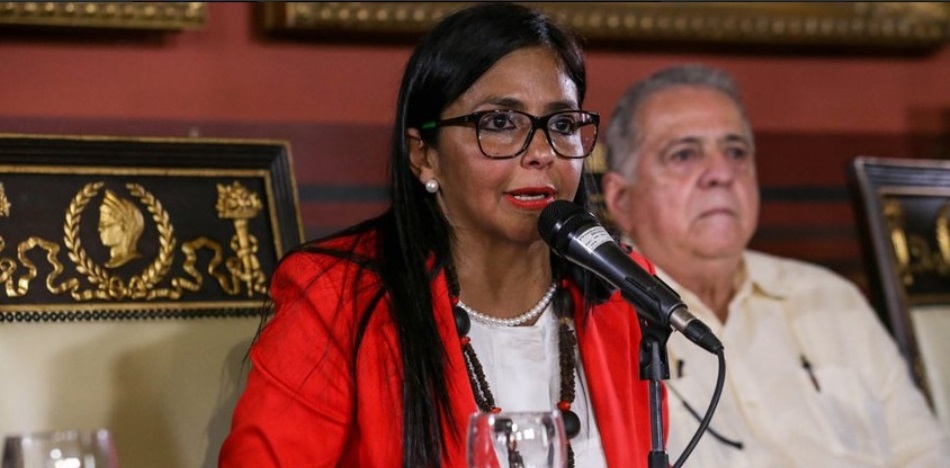 EspañolVenezuela's unique economic crisis has left the country with a widespread food and medicine shortage. But after the US issued sanctions against the country last week, cutting off much of the regime's finances, officials are claiming they no longer have a way to pay for food and medicine at all.
Delcy Rodríguez, President of the illegitimate National Constituent Assembly, said this Sunday, August 27, that Venezuela can't pay for food and medicine entering the country on boats due to sanctions imposed by the United States.
"We have boats on the coast loaded with drugs and food," she said. "Venezuela has no way to pay for these essential goods for the Venezuelan population. Why not? Because there is a financial blockade against the country."
Rodríguez said the sanctions Trump signed via executive order on Friday would lead the country "to a cessation of international payments" and "sharpen economic aggression against the Venezuelan people."
The sanctions prohibit negotiations on new debt and capital issued by Venezuela and the state-owned oil company, PDVSA. It also prohibits negotiations with certain existing bonds belonging to Venezuela's public sector, as well as dividend payments to the government.
However, the new sanctions provide for the authorization of certain transactions with the Citgo oil company and for payments of debts related to the export or re-export of agricultural products, medicines and medical devices — a fact that Rodriguez neglected to mention.
Her discussion of a "financial embargo" echoes rhetoric used by the Fidel Castro regime when the United States decided to enact a total embargo on the island's dictatorship. Additionally, Rodríguez's comments would suggest the Maduro regime is willing to accept humanitarian aid being offered by various countries across the world. But so far, they have all been rejected.
It also came to light last week that Venezuela has money abroad, thanks to the embargo ordered by a US court involving the transnational mining company, Crystallex. Venezuela had money at Bank New York Mellon, which officials confirmed had been intended for military spending.
Venezuela bought more weapons than any other country in Latin America in 2015, according to the Stockholm Peace Research Institute, spending US $162 million on war-related resources such as armored vehicles, artillery, warplanes and ships.
Source: El Nuevo Herald