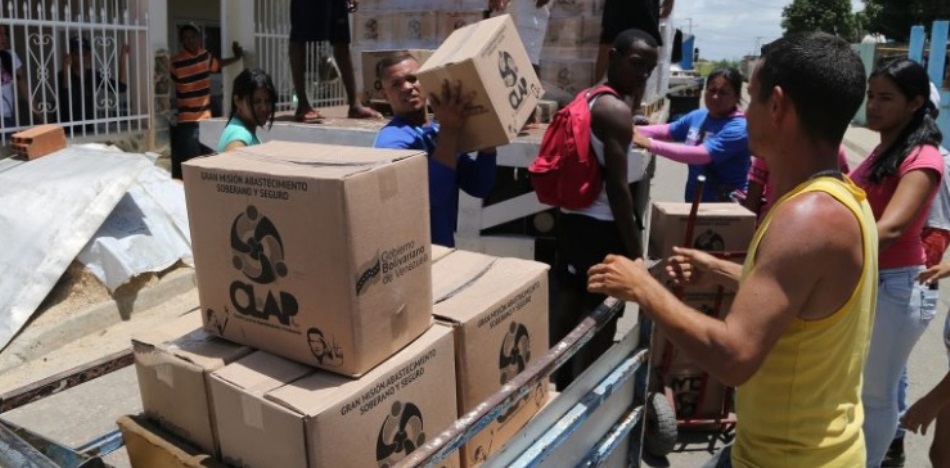 Español A self-proclaimed defender of the poor, Venezuelan ruler Nicolás Maduro is actually taking advantage of shortages across the country by marking up goods for his own profit through a company involved in the sale of the country's subsidized food program, CLAP.
In August, Mexican newspaper Excelsior published a report claiming Maduro sold food in Venezuela with a surcharge of up to 112 percent.
According to the Mexican Tariff Information System, the Venezuelan government paid companies that operate in Mexico US $16 for 11 basic products that were later resold in packages for $34.
Between January and May, Venezuela purchased over 414 billion tons of vegetable oil, rice, canned tuna, sugar, black beans, lentils, white corn, mayonnaise, pasta and tomato sauce from Mexico for the CLAP food program.
Among the companies chosen by Maduro's regime to import food from Mexico were Postar Intertrade Limited, whose owner is Samark López Bello, a figurehead working under Venezuelan Vice President Tareck El Aissami.
Group Grand Limited has also been accused of selling products at a premium. Attorney General Luisa Ortega Díaz said Maduro is the owner of the company, which serves as an intermediary for buying food in Mexico and selling it in Venezuela.
According to Excelsior, cross-referencing the price invoices revealed that a CLAP food box is worth half what Venezuela charges for it. The only products that Venezuelans pay a fair price for are milk powder, sugar and vegetable oil, according to the report.
On Wednesday, August 23, Ortega Díaz, who fled Venezuela after the regime raided her home, said that though Rodolfo, Reyes, Álvaro Pulido Vargas and Alex Saab are listed as owners of some companies serving CLAP, the company really belongs to Maduro.
Journalist Roberto Deniz said the Mexican state of Táchira is supplying the food boxes, but that the prices don't add up.
Facturas indican q la Gob. del Táchira compró alimentos a Group Grand Limited, empresa q denuncia LOD es d Maduro https://t.co/6zkkpDD9FL pic.twitter.com/IhELG6uDRw

— Armando.Info (@ArmandoInfo) August 24, 2017
Receipts indicate that the Táchira government bought food from Group Grand Limited, a group that LOD claims belongs to Maduro. 
"In October of last year, the President of the Republic approved a $340 million budget for to the Táchira government to buy 10 million food orders. Once the resources are approved, the food goes out, but this company from the Government of Táchira … has bought directly from not only Mexico, but also through the company we are talking about today," he said.