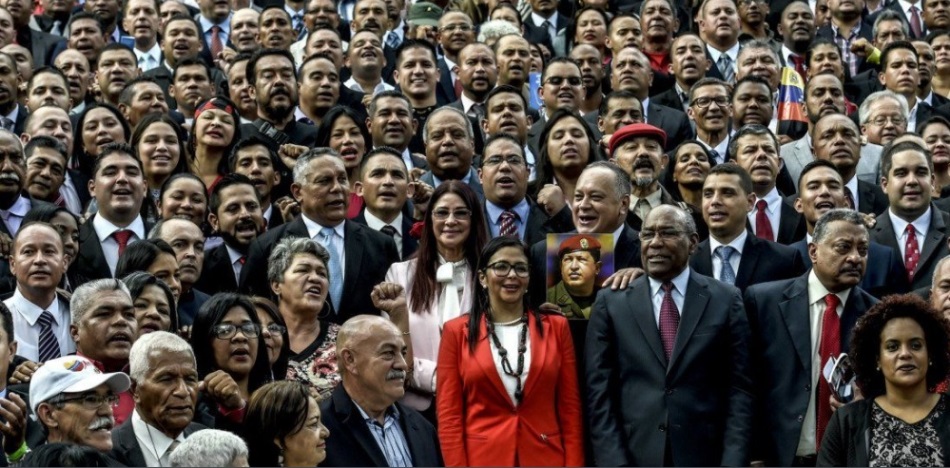 EspañolThe newly created National Constituent Assembly has officially replaced Venezuela's National Assembly, the legislative body laid out in the country's constitution. President Nicolás Maduro created the Constituent Assembly to write a new constitution despite international outcry that it was a power grab on other governmental institutions. It looks like Maduro has proven the international community correct once again.
In April 2017, Venezuela's Supreme Court attempted to dissolve the National Assembly's powers, but international pressure forced them to reverse the decision. The country's opposition refused to give up their seats in the National Assembly then, and they're refusing to participate in the "new" legislative body now.
The opposition had been fighting back against the Constituent Assembly since its creation in late July. They refused to attend an extraordinary session this week, and so Constituent Assembly President Delcy Rodriguez announced that the body would therefore assume the powers of the National Assembly.
"This is a decree for coexistence between the NCA and the NA to once and for all teach the opposition that it must respect the will of the Venezuelan people," Rodriguez said.
She said that the Constituent Assembly will not allow for more deviations from power. "The constituents arrived to bring benefits to Venezuela and put it in order," she said.
"Since the National Assembly is in contempt, it did not attend the Constituent Assembly session, we have adopted a decree assuming its legislative and control powers," tweeted Congressman Pedro Carreño, who supports the regime.
Cómo AN en desacato, no asistió a convocatoria de la Constituyente, hemos aprobado decreto asumiendo su competencia legislativa y de control

— Pedro Carreño (@PedroCarreno_e) August 18, 2017
The National Constituent Assembly has usurped the legislative power and popular sovereignty of the country's congress, and because it is considered an instrument of Maduro's regime, the move should be considered a coup that consolidates power for his dictatorship.
Source: La Patilla