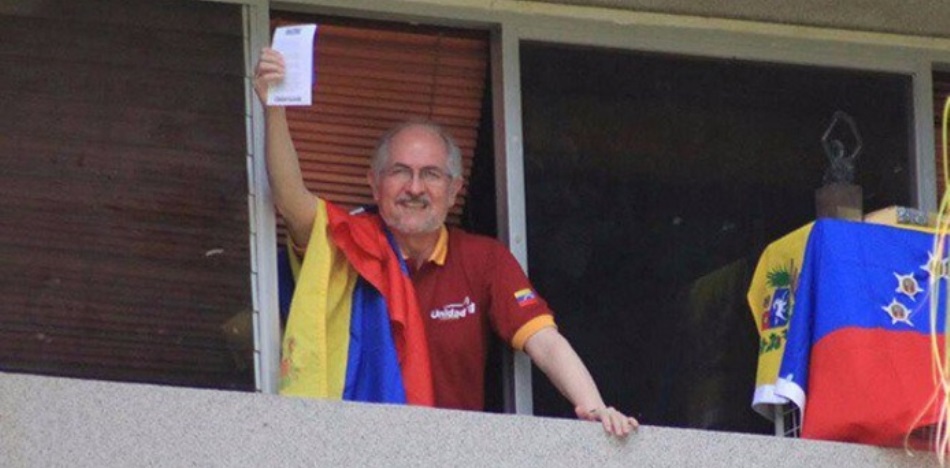 EspañolNicolás Maduro's regime in Venezuela has released former Mayor of Caracas Antonio Ledezma after holding him for less than one week, calling into question what strategy the dictatorship actually had in recapturing the political prisoner in the first place.
Though he was only held in custody for two days this second time, Ledezma's family didn't know where he was for the first 24 hours. It wasn't until the morning of Friday, August 4 that his wife Mitzy Capriles announced that agents from the Bolivarian Intelligence Service had let him come home.
She took to Twitter to announce the news:
Mitzy. Informo al país que hace minutos sorpresivamente a Antonio lo trajo el SEBIN a nuestra residencia. Vuelve a la casa por cárcel.

— Antonio Ledezma (@alcaldeledezma) August 4, 2017
Mitzy. Letting the country know that minutes ago SEBIN surprisingly returned her husband to his residence. He has been granted house arrest.
She thanked the Venezuelan people and the international community for their concern and solidarity.
Ledezma, along with the leader of the Voluntad Popular party, Leopoldo López, were arrested in the middle of the night on Tuesday by intelligence agents and transferred from their homes to the Ramo Verde military jail. The regime alleged that the two of them had been planning to escape their house arrest sentences.
The regime's decision to once again grant Ledezma house arrest comes hours before the National Constituent Assembly is set to meet.
As for political prisoner Leopoldo López, he is still being held in Ramo Verde and his lawyers and relatives are unaware of his current status.
"We do not have information on his whereabouts," said his Spanish lawyer Javier Cremades. "We believe he is in the [Ramo Verde Military] jail, but not even that has been officially confirmed,"
Sources: La República; Diario Las Américas