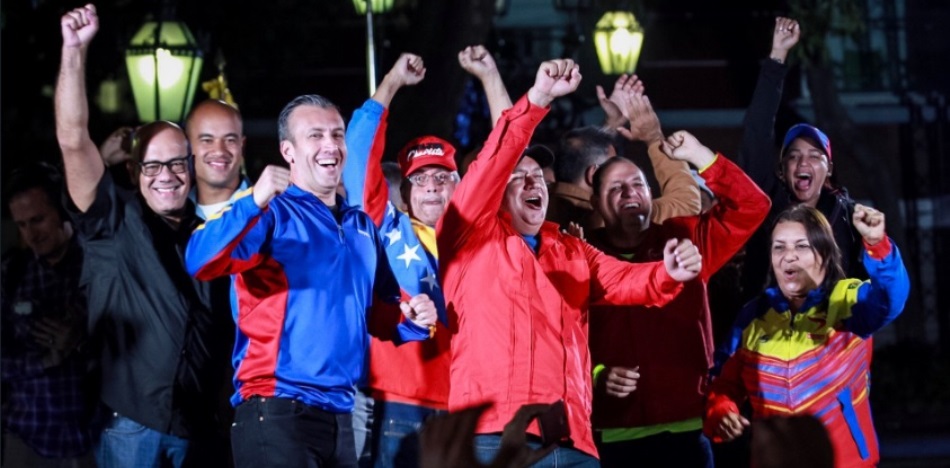 EspañolDespite holding an illegitimate election that was lambasted internationally for lacking voters or voting oversight, Venezuela President Nicolás Maduro and his regime are set to take over the country's congress in the next 48 hours.
Voting booths remained almost entirely vacant this Sunday, July 30 despite the regime's claim that eight million people participated.
"Already, the National Constituent Assembly is a reality, it will be installed in a maximum of 72 hours and could be complete in as early as 24 hours," Diosdado Cabello said. "The amount of time is irrelevant to us. I think others are more concerned with when the National Constitutional Assembly will meet."
"That day, we will come here with portraits of Bolivar and Chavez, which will be all over the National Assembly," he said.
The new constituents will take over the roles previously occupied by opposition deputies, who held the majority in the National Assembly. Now, the Maduro regime will have control of all three powers of the state, which will allow it to easily change the country's constitution.
Cabello, the President of the National Constituent Assembly, said the body of 545 assembly members will replace the Attorney General and take over the National Assembly building.
Meanwhile, Spain and at least 11 countries across the Americas have denounced the results of the election, with Peru calling for an urgent meeting of foreign ministers next week in its capital of Lima.
US President Donald Trump's adminsitration has threatened economic sanctions against the oil-reliant country, something that could affect basic governmental operations moving forward.
Empty voting booths
"We have a Constituent Assembly," Maduro said. "It is the largest vote the Bolivarian revolution has had in the last 18 years of electoral history."
Yet very few people showed up to vote, especially compared to the unofficial referendum held by the opposition, in which around seven million people came out to express their disapproval of the chavista regime.
Orden de Maduro&pandilla dada a Tibisay es que debe anunciar de un millón a dos millones por encima de 7.535.259 de consulta electoral MUD

— Nelson Bocaranda S. (@nelsonbocaranda) July 30, 2017
Nelson Bocaranda S
@nelsonbocaranda
The order from Maduro and his gang given to Tibisay is to announce between one and two million above the 7,535,259 figure for the MUD referendum. 
Coverage of the election on state TV channels was even taken off the air as producers struggled to find a large quantity of people to show.
Venezuela sumergida en sangre y represión, con decenas de muertos y detenidos.
Mientras en VTV, bailan con el "vamo' a portarnos mal" pic.twitter.com/8defsMSvKs

— AlbertoRodNews (@AlbertoRodNews) July 31, 2017
Venezuela is soaked in blood and repression, with dozens killed and detained. Meanwhile on VTV they dance to "vamo' a portarnos mal"
¿8.089.320 votos: Una victoria aplastante con pírrica celebración?
El que tenga ojos que vea: lo que no se vio de la "celebración" de Maduro pic.twitter.com/1DNPYFACQH

— AlbertoRodNews (@AlbertoRodNews) July 31, 2017
 @AlbertoRT51
8,089,320 votes: a Pyrrhic and devastating victory celebration? He that has eyes to see, let him see: what was not seen in the Maduro "celebration".
A National Electoral Council without credibility
Now, the National Electoral Council — the government institution overseeing elections in Venezuela — has lost the little credibility that it had managed to retain. It claimed that more than eight million voters turned out in support of the Assembly, but other figures showed than no more than 2.5 million people showed up.
Con un supuesto apoyo de 8 millones de electores cuesta entender por qué suspendieron el revocatorio y pospusieron las regionales de 2016

— Eugenio G. Martínez (@puzkas) July 31, 2017
@puzkas
If they supposedly had over 8 million votes, then it begs the question of why they suspended the recount, and postponed the regional elections from 2016.
El corte definitivo de participación (según la oposición) 2.483.073 electores (12.4% del RE).

— Eugenio G. Martínez (@puzkas) July 30, 2017
 @puzkas
The definitive final count (according to the opposition) 2,483,073 votes (12.4% of the RE).
"Peace won" Director of CNE Tibisay Lucena said after announcing the results, despite the death of 15 Venezuelans during the election. In the time between that announcement and the official death figures, the election website was hacked, reading the error message: "CNE HACKED WHAT DID YOU THINK? THAT WE DIDN'T KNOW YOU HAD CHEATED? COME ON… WE ARE NOT THAT STUPID
https://twitter.com/ghostbar/status/891958245564329984
ghostbar
@ghostbar 
I woke up today to find that the CNE website has been defaced by @TBGuardians
The Venezuelan opposition announced that they will remain in the streets, having scheduled a massive protest for this Monday, July 31. They will march at noon, and at 5 p.m., there will be another march for the dozens wounded and killed during the election.
Freddy Guevara
@FreddyGurevaraC
Against fraud and murder: 12pm block off your street, come down from your office, shut down your car. 5pm march against massacres (Parque cristal). 
Contra el fraude y la masacre: 12m toma y tranca tu calle, baja de tu oficina, apaga el carro. 5pm marcha contra la masacre (Parque cristal)

— Freddy Guevara (@FreddyGuevaraC) July 31, 2017