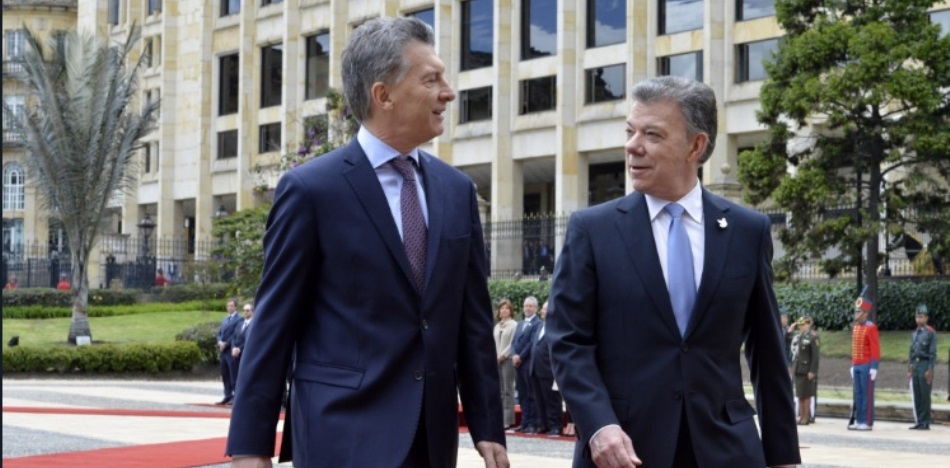 EspañolThe Presidents of Argentina, Mexico and Colombia are involved in alleged negotiations to give dictator Nicolás Maduro a safe passage out of Venezuela, The Financial Times reports.
Colombian President Juan Manuel Santos is reportedly leading an effort with support from Argentine President Mauricio Macri and Mexican President Enrique Peña Nieto that involves a "laissez-passer" for Maduro.
Venezuela's government is at a crossroads following a referendum that showed overwhelming disdain for the country's current condition and leadership. The results were backed by major powers and organizations across the globe, and led the United States to threaten the country with oil sanctions that could all but crush the economy.
Since then, various stories have spread regarding a potential exit — either peaceful or otherwise — by Maduro and the major members of his regime.
This Monday, Santos traveled to Havana, Cuba in order to analyze potential solutions to the Venezuelan crisis with island President Raúl Castro.
Though Macri was not present at the meeting, the Argentine newspaper Clarín reported that he is backing any push for negotiation that leads to improved conditions in Venezuela. In Chile, Macri reportedly told President Michelle Bachelet that he no longer trusts strategic alliances involving Maduro, as he has proven time and again that he won't honor their commitments.
Santos, however, is reportedly the only world leader who maintains an ongoing, active dialogue with Maduro. He revealed this Monday, July 17 that he went to Cuba looking to be a mediator for Venezuela despite the Castro-Maduro alliance that already exists.
Source: Diario Las Américas; La FM