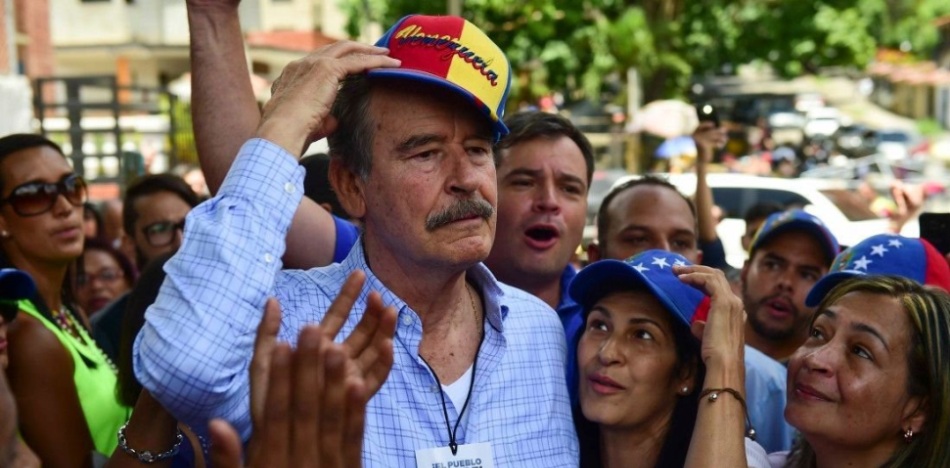 EspañolFormer President of Mexico Vicente Fox spoke out against Venezuela's dictatorship this week, telling the high-standing official Diosdado Cabello that he is a killer and that his hands are full of blood.
Fox said Cabello is a killer and a torturer who is largely responsible for the policies and decisions made by President Nicolás Maduro, whom he called a "dictator." He also said that members of the regime will end up being sent to the International Court of Justice at the Hague.
Fox was in Venezuela during the referendum July 16 that ultimately showed just how unfavorable Maduro and his Constituent Assembly really are. Over 90 percent of those who turned out voted against it. Fox compared the referendum to the election that took place 17 years ago, when the Institutional Revolutionary Party lost power in Mexico after a 70-year reign.
"It's over, this is the end, this is the final stage. People of Venezuela, take heart and be strong," Fox said in a video he posted to social media.
Diosdao Cabello,Yow'r the one behind Dictator Maduro,You'r the killer ,you torture ,your hands'r full blood, You'll meet Halle Court.Prepare

— Vicente Fox Quesada (@VicenteFoxQue) July 17, 2017
Venezuelan politician Samuel Moncada said the former Mexican leader was a " persona no grata" — meaning he was unwelcome in the country — and claimed that Fox had been paid to come to promote violence and foreign intervention.
"As Chancellor of the Bolivarian Republic of Venezuela, I announced the statement of Mr. Vicente Fox as 'persona no graga.' Mr. Fox has abused the hospitality of the Venezuelan people, by insulting out country," Moncada tweeted.
The Mexican politician arrived in Venezuela on Saturday accompanied by the former President of Colombia Andrés Pastrana and three other former heads of state from Latin America looking to support the opposition referendum.
Source: Diario Las Américas