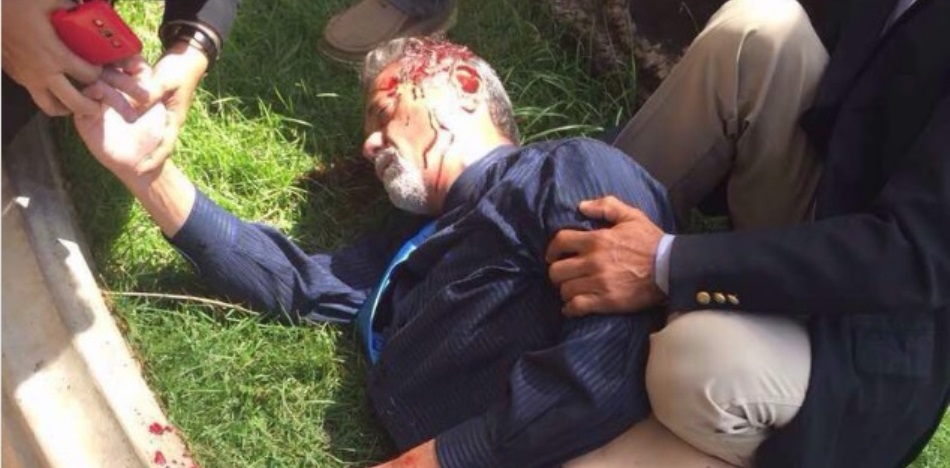 EspañolViolent supporters of Venezuela's dictatorial regime entered the country's congressional building this Wednesday, July 5 and attacked National Assembly members and journalists.
Officials were celebrating Independence Day July 5, when the group — which supports President Nicolás Maduro's regime — entered the National Assembly chambers and began throwing explosives that resulted in multiple injuries.
Dip.@ArmandoArmas y funcionarios de seguridad AN resultan heridos durante hechos violentos en el interior del Palacio Federal Legislativo. pic.twitter.com/6rM00261gX

— Asamblea Nacional (@AsambleaVE) July 5, 2017
"What a disgrace that the Armed Forces allow criminals to attack parliamentarians," Vice President of the National Assembly Freddy Guevara said. "We are going to continue to resist."
Guevara said at least two members of the National Assembly were wounded. Some of the walls in the building were even stained with blood.
#5Jul 12:15pm – Dip. @americodegrazia también resultó herido por violentos que ingresaron al Palacio. Está siendo atendido por enfermería. pic.twitter.com/iGme74RmUM

— Juan Andrés Mejía (@JuanAndresMejia) July 5, 2017
Leading up to the attack, journalists and National Assembly members had barred the doors to the room in order to protect themselves, as the chavista group had warned earlier that morning that they were going to take over the building for at least six hours. The blockade set up to stop them from getting in wasn't strong enough, however, because minutes later an explosive went off and the chavista group entered the room. Officials with the National Guard tried to contain the Chavista groups with tear gas, but that proved ineffective as well.

#5Jul Con palos y objetos contundentes colectivos arremetieron en el Palacio Federal Legislativo pic.twitter.com/iCnUhUvaH4

— CaraotaDigital (@CaraotaDigital) July 5, 2017
The protesters threw firecrackers at journalists and parliamentarians who were at the branch of the National Assembly.
https://twitter.com/chiguinoki/status/882641362285457409
Source: TV Venezuela