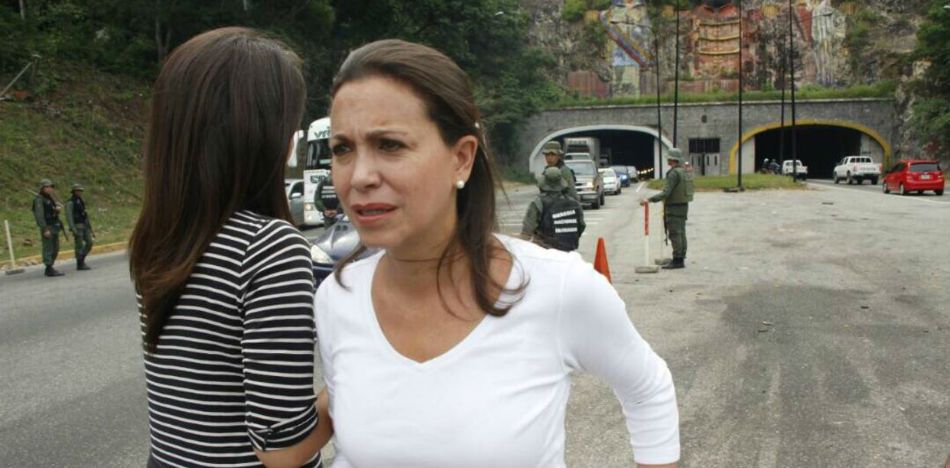 Venezuelan opposition leader María Corina Machado was detained by officials of the Bolivarian National Police (PNB) on her way to the state of Barinas; she was also allegedly threatened by paramilitary groups with close ties to the Maduro regime.
This Thursday, June 8, Machado was a victim of irregularities and violent acts by the regime of Nicolás Maduro. She is still under arrest and she herself is not aware of the reason.
It all started when the opposition leader traveled by land to the state of Barinas; however she remained stuck in traffic for more than two hours in an endless line of vehicles, because they decided to take an unusual route via the Regional Central Highway.
Once they arrived at the toll in Guacara, in the central region of the country, motorized units of the Service of National Intelligence (SEBIN) stabbed the tires of the vehicles in which Machado and her team were traveling.
She then tried to proceed on a motorcycle, but PNB officials stopped him and confiscated the motorcycle. The opposition leader tried to inquire as to the reason for her arrest, but was denied an official explanation.
3. Caminamos fuera del túnel y encontramos "la causa" del accidente: a la GN le dio la gana de trancar la autopista pic.twitter.com/ORE6QZ0inN

— María Corina Machado (@MariaCorinaYA) June 8, 2017
At the moment of the retention and while Machado spoke with the officials, armed paramilitary groups loyal to Maduro threatened those present, even including officials of the GNP. Their presumed goal was to prevent Maria Corina Machado from reaching her destination.
#URGENTE Motorizados armados atacan carro de @MariaCorinaYA, le revientan los cauchos mientras viajaba a Barinas. #LeTienenMiedoAMaríaCorina pic.twitter.com/fRigFTkQC4

— Prensa María Corina (@PrensaMCM) June 8, 2017
Sources close to the opposition leader told the PanAm Post that the governor of the state Carabobo, Francisco Ameliach, ordered that Machado "not be allowed to come" to the area; the reason for which SEBIN, PNB and even paramilitary groups prevent the passage.
With information from Vente Venezuela team