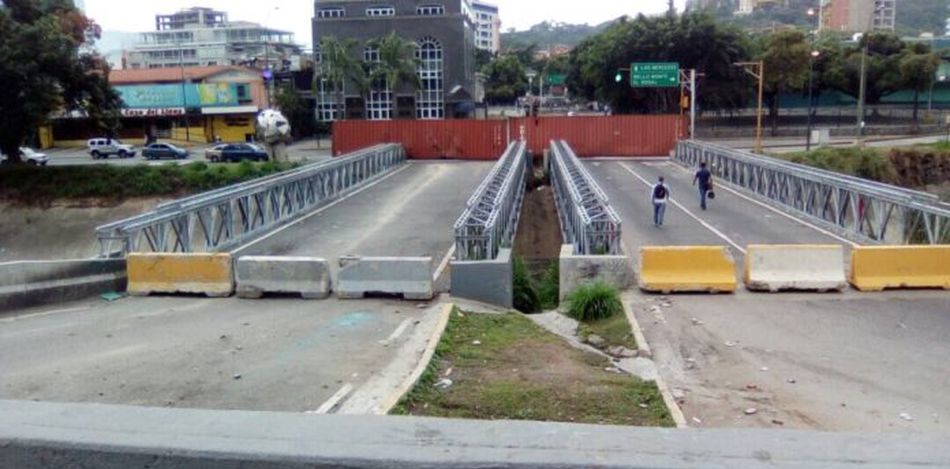 EspañolOne of the main streets in Venezuela's capital was blocked to traffic, which critics said was a desperate attempt to quell protests.
This Friday, May 12, roadblocks went up on the Francisco Fajardo motorway at the exits of Bello Monte and Rio de Janeiro Avenue. The blockades were placed there overnight, paralyzing all commercial activity and other transportation for the city, which has six million residents.
Many reasons have been put forward as to why officials may have installed them.
1. To prevent opposition protesters from reaching both Fajardo (where repression against them usually begins) and important government buildings.
2. To cut off a main throughway that protesters use to escape repression.
3. The prevent protesters from using the bridges nearby as a protection against tear gas.
4. As an alternate mode of repression that gives the National Guard some rest after nearly 40 straight days of straight protests.
An unnamed source said a minister ordered the placement of the barricades, as well as their ultimate removal following intense criticism and mockery. Cranes are already removing the metal structures from the freeway.
Governor of Miranda and opposition leader Henrique Capriles commented on the decision:
Después de otra vez hacer el ridículo y reiterar lo que son,la narco corrupta cúpula madurista ordena mover los contenedores! #12may pic.twitter.com/zA8WHyLreA

— Henrique Capriles R. (@hcapriles) May 12, 2017
Tweet: After exposing how ridiculous they are, Maduro's narco-corrupt regime ordered to remove the containers.
These are not the first roads that the government has blocked. In fact, the area of Chacaito where many opposition members will gather to start a "grandparents march" to the Ombudsman Office this Friday has also been blocked.
En este momento una inmensa grúa retira los containers que están en el puente de Las Mercedes pic.twitter.com/MeY95F6zUS

— Ranitalios (@ranitalios) May 12, 2017
Tweet: At this moment a huge crane is removing the containers that are blocking Las Mercedes.