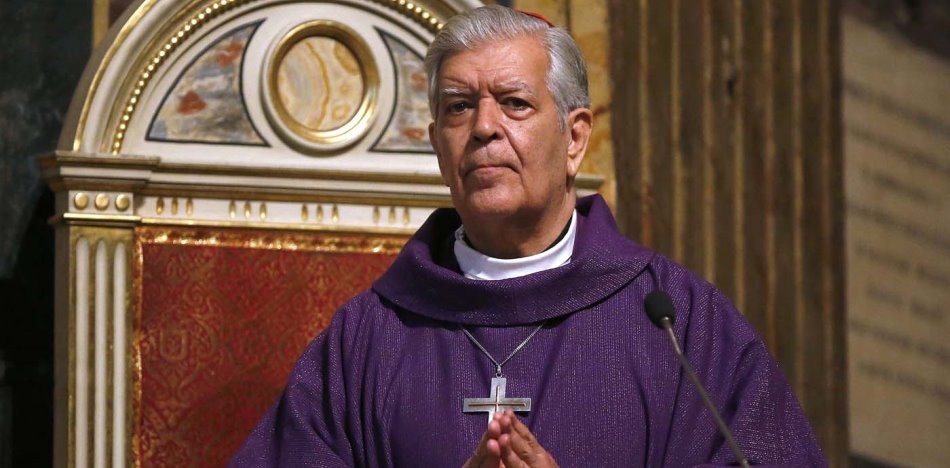 EspañolDuring the procession of the Nazarene of St. Paul in the Basilica Santa Teresa, Chavista groups under the government's control attacked the Archbishop of Caracas as he gave a speech encouraging freedom in Venezuela.
The aggressors pushed Cardinal Jorge Urosa Savino, Archbishop of Caracas, while presbyters and seminarians sheltered him and took him to the sacristy.
URGENTE Asi esta la basilica de Santa Teresa Colectivos agreden dentro de la Iglesia en pleno culto al nazareno pic.twitter.com/aeub9ij9i1

— Sol Rojas (@sol651) April 12, 2017
Venezuelan journalist Alberto Rodríguez reported that officials of the National Police did not intervene to protect the archbishop or parishioners.
According to opposition leader Antonio Ecarri, during the aggression the Chavista groups also stole property from the church.
No respetan ni la casa d Dios.Nuestra solidaridad con la Iglesia y Cardenal Urosa 12Abr Basílica de Santa Teresa pic.twitter.com/QlWqaOvnXw –

— CARLOS VECCHIO (@carlosvecchio) April 12, 2017
#Urgente Nazareno de San Pablo Basílica de Santa Teresa, chavistas irrumpen PARA agredir al cardenal Urosa. pic.twitter.com/P1WM45UY3V

— AEV Stereo ? (@aquiestavnzla) April 12, 2017
Simultaneously, the Bishop of San Cristobal, Mario Moronta, denounced death threats against priests in San Cristóbal Wednesday, April 12.
Several churches around the city are covered with offensive graffiti  and threats against priests.
"The priests of our Diocese of San Cristóbal do not fret or feel intimidated by these immoral threats," Moronta said in a statement. "On the contrary, it is a new opportunity to reaffirm the configuration of the Good Shepherd, who lays down his life for his sheep."
Después que usaron al Papa Francisco y a la iglesia para el diálogo y oxígeno, dejan estos msjs a los curas. Utilizados cual preservativos pic.twitter.com/f90WIq9Een

— Amilcar Espitia (@amilcarespitia) April 12, 2017
This is not the first time that the Catholic Church in Venezuela has been a victim of intimidation by President Nicolás Maduro's administration.
On January 30, President of the Venezuelan Episcopal Conference Diego Padrón spoke out against repeated actions to intimidate the Catholic Church. At that time, several churches in the country were attacked by alleged Chavista groups.
"There seems to be some line and element that unites them," he said of the attacks. "They are not isolated events but it seems that these are events prepared to intimidate the Catholic Church, which has had a very clear position about the government, and in pointing out the difficulties and problems and the crisis that the country lives in."
Sources: El Nacional; Efecto Cocuyo