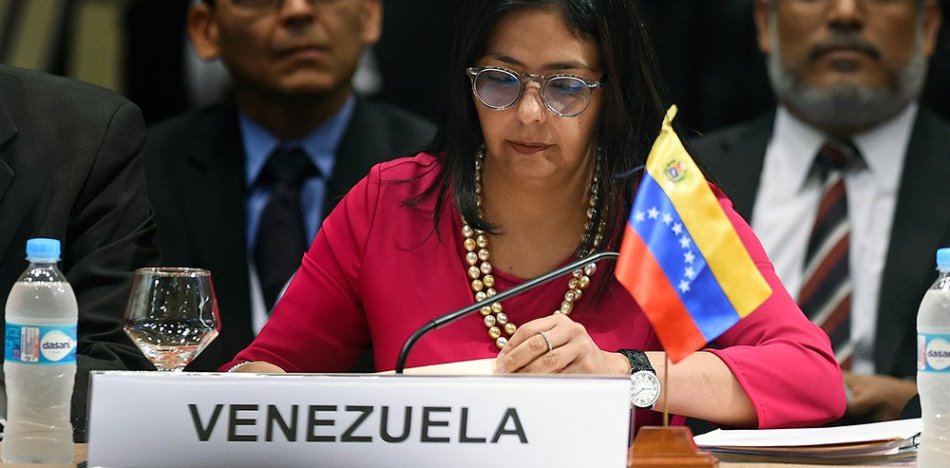 EspañolThe Organization of American States (OAS) is currently holding a session of its Permanent Council to discuss the current crisis in Venezuela. Delcy Rodríguez, the Venezuela's Foreign Minister, made a series of controversial statements which solicited a strong response from Paraguay.
During her speech, Rodríguez claimed that "international organizations harass and seek to intervene in Venezuela while they remain silent about the problems of other nations such as those seen in Paraguay today." She was referring to the strong protests that have emerged in Paraguay after the senate voted to approve a presidential reelection, which was previously forbidden by the constitution.
The Paraguayan representative, Elisa Ruiz Diaz, made it clear that her country "is subject to scrutiny and there is dialogue between all parties."
"My country is subject to international scrutiny, unlike your country, and at the moment a dialogue is being carried out between all parties in the country, also unlike your country. So measure your words," she said.
Venezuela's Rodríguez replied sharply: "You should reduce your hysteria and insult (OAS) Secretary (General) (Luis) Almagro instead. Venezuela is not under anyone's command. So I also ask you for respect."
Rodríguez intervention also demanded that Secretary General Almagro resign, blaming him for "the violence that the opposition has carried out in Venezuela."
On Monday, April 3, most OAS countries adopted a consensus resolution to apply the organization's Democratic Charter against Venezuela. The measure came as a response to the Maduro regime's coup d'état against the National Assembly by means of the Supreme Court, which usurped parliamentary powers arbitrarily.
Rodríguez claimed that the Venezuelan government should apply the Democratic Charter since the opposition, headed by Congressman Freddy Guevara, intends to "overthrow" President Nicolás Maduro by means of the National Assembly. Guevara immediately replied on Twitter:
Me informan que @DrodriguezVen esta acusándome OEA de querer sacar al gobierno. Obvio que si! Y a diferencia de uds lo haremos sin violencia

— Freddy Guevara (@FreddyGuevaraC) April 5, 2017
Tweet: I was informed that Foreign Minister Rodríguez is accusing me and the OAS of wanting to remove the government. Of course I want to! Unlike you, we'll do it without violence.
Source: Caraota Digital