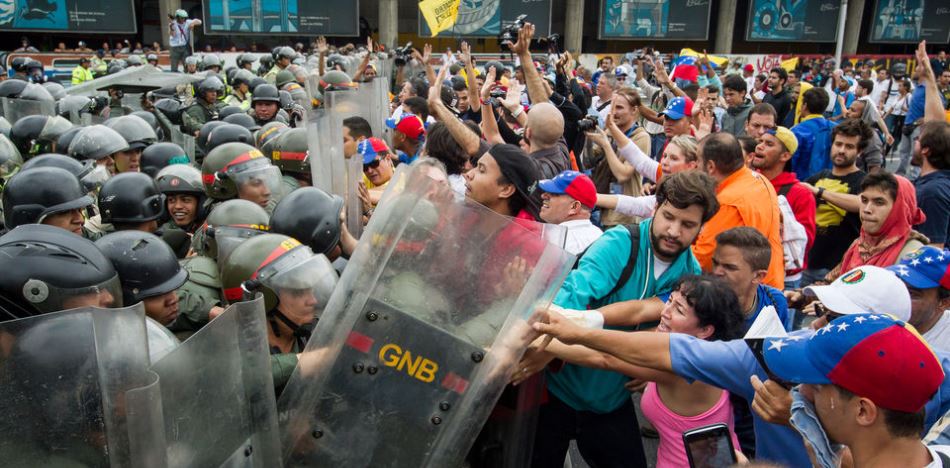 Venezuelans are blocking highways and taking to the streets in response to an apparent Coup d'Etat.
Though Maduro's regime arranged anti-riot measures in several Venezuelan cities, hundreds of Venezuelans turned out to express their opposition to the Supreme Court's ruling that dissolved the powers of the country's congress.
Caracas, Los Teques, Vargas, Carabobo and Anzoátegui are just some of the states where protests are taking place.
In Urbina, Caracas — a popular area that has traditionally been faithful to Chavez —  is now flooded with protesters.
"No more dictatorship," they are reportedly chanting. "We want freedom."
During the protests, members of the student movement were pushed back from the main headquarters of the Supreme Court of Justice in Caracas and the Bolivarian National Guard reportedly detained two students.
Student Leader Hasler Iglesias said the students arrested are Andres Olivero and Rafael Alvarez from the Central University of Venezuela.
Cameraman for the TV channel Vivoplay, Andry Rincon, was detained for 30 minutes.
Since protestors were not allowed to demonstrate at the TSJ, students went to the Palace of Justice. When they arrived, they were attacked, and three more protesters were arrested.
The opposition has called for protests in the country's streets this Saturday as well.
"This is the time to stand up," said President of the Parliament and Opposition Leader Julio Borges.
Also, the Popular Will party has urged Venezuelans to resume demonstrations in the street so as to "impose the will of the people."
Even renowned singer Jose Ignacio Mendoza — also know as "Nacho" — said he is ready to travel to Venezuela "to take to the streets."
"Should I ignore this and force myself to not care to avoid taking the risk that gangs turn on me?" He said. "Sorry, I do care. I'm ready to go to Venezuela to take the streets when the majority of Venezuelans decide. I'm not a politician. Beyond being an artist I'm a citizen demanding democracy.
The TSJ ruled in favor of Maduro's administration, deciding that the opposition majority congress will be held in contempt and no longer be allowed to carry out its legislative duties.
The judicial ruling said that "as long as contempt and invalidity of the proceedings of the National Assembly persist, this Constitutional Chamber shall ensure that parliamentary powers are exercised directly by this Chamber or by the body that it deems suitable, to ensure the Rule of Law. "
Desde la autopista en #LaUrbina porque tenemos derecho a protestar contra el golpe de Estado cometido por el TSJ. #EnLaCalleContraElGolpe pic.twitter.com/NTKyzuD1R6

— Juan Carlos Vidal S. (@Juancavidal) March 31, 2017
Protestas en toda #Venezuela ante la sentencia inconstitucional del TSJ donde da un Golpe de Estado a la AN.-!#EnLaCalleContraElGolpe pic.twitter.com/eLSkrswQ4w

— Carlos Paparoni (@CarlosPaparoni) March 31, 2017
"Protests all over #Venezuela due to the TSJ's unconstitutional ruling that gave way to a Coup d'Etat against Congress."
Sansebastianeros resteados #EnLaCalleContraElGolpe@koyakmiranda @juanmendezpj1 @CarolinadMirand @JulioBorges @hcapriles @richardmardo pic.twitter.com/ORwe3ZMI11

— MARCO MARRUFO (@MMARRUFO3) March 31, 2017
From#LaUrbina highway, because we have the right to protest the TSJ's Coup against Congress.
Source: El Nacional