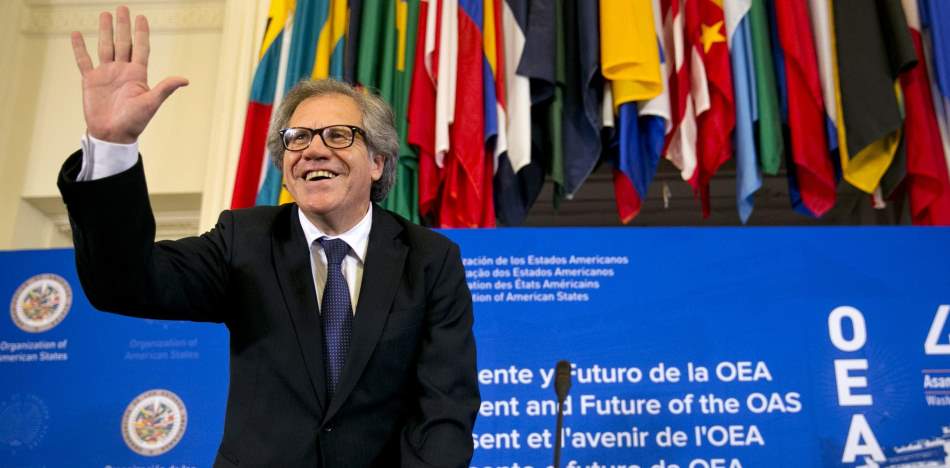 Español Every month international support for Venezuela President Nicholas Maduro's administration is shrinking and becoming more and more isolated, thanks in part to the worsening living conditions in-country as well as joint efforts by Organization of American States Secretary General Luis Almagro and US President Donald Trump.
Almagro has been the leading figure in the fight to save Venezuelan democracy and the support he has received from the US leaves Maduro and his allies fragile and uncertain of their future.
Nearly two dozen countries have joined Almagro's efforts to implement the democratic charter on Venezuela, which could bring about free and open elections, reinstate respect for human rights and release political prisoners.
Peru, Argentina, Mexico, Canada and the United States have been vocal about this plan, and this week, many Caribbean nations as well Trinidad & Tobago have joined that list as well.
"Never before has a group of countries confronted the regime," said former Governor of Caracas Diego Arria. "First it was Almagro. Today we have 22 votes, which means that this Tuesday's session is a warning for the regime that it could be suspended."
Professor of International and Public Affairs at Columbia University Christopher Sabatini said failure by some US Treasury diplomats are focused on the Venezuelan issue and willing to spend political capital in the region.
Mexico's accompanying attitude on these plans suggest that it is attempting to gain footing in its relationship with the United States, Sabatini added.
"I think Mexico is doing it because it represents an area where it can collaborate with the Trump government," he said. "Mexico has a lot of pending issues with the US and is looking for areas of agreement to improve relations."
Relations with Colombia
While many countries are vocal in their support of lifting up democracy in Venezuela, Colombia has remained silent.
President Juan Manuel Santos has said several times that he was a friend to Hugo Chavez, and has proven it in his policies. In regards to political prisoner Lorent Saleh, for example, Colombia returned him to Venezuela and therefore violated international law.
Maduro recently issued a threat against the Colombian government, saying that peace with FARC depends on the Bolivarian Revolution, and suggested that Venezuela will continue to protect narco-guerrilla groups.
Many critics have said Santos must decide under what terms he wants peace in Colombia — and if he wants it enough to lose his principles and international status.
Armed forces and the democratic charter
Article 20 of the Inter-American Democratic Charter states that "if diplomatic efforts prove unsuccessful or if the urgency of the case demands it, the Permanent Council shall immediately convene a special session of the General Assembly to make such decisions as it deems appropriate."
Since June 2016, unsuccessful efforts have been carried out in an effort to make this happen. Only now are there enough votes — 18 — to force Maduro into activating article 21:
"When the General Assembly is convened for an extraordinary session and finds that there has been a rupture of the democratic order of the member state, it shall make the decision to suspend it from the OAS with the affirmative vote of two thirds."
A suspension of the country implies political and moral punishment by a country's peers. This would represent a challenge for the country's armed forces, as they would suddenly have to choose if they want to be accomplices to the situation and collaborators to an anti-democratic regime, or fight to restore the institutionally that at heart they exist to protect.
Sabatini said the OAS has several options, the most radical of which is to ask Almagro to suspend Venezuela.
"I believe that Almagro's option should be the last, because breaking relations with Venezuela removes many other options of diplomacy and collaboration," he said.