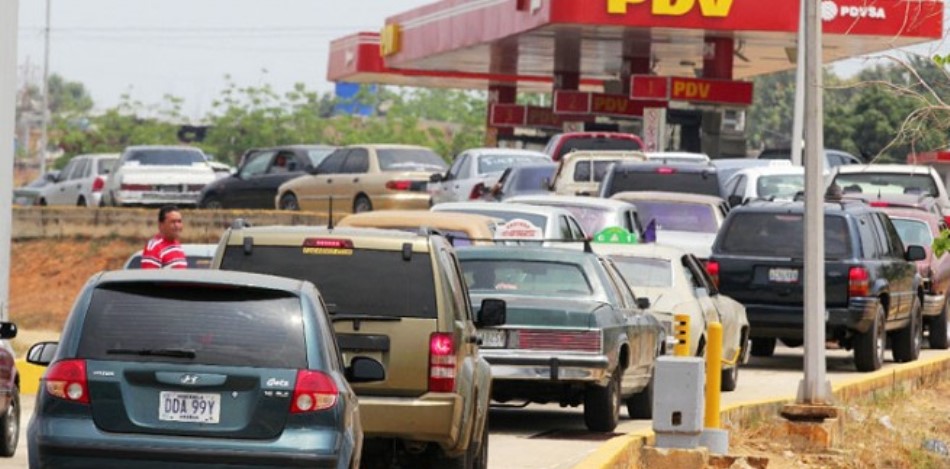 Although Venezuela has 18 refineries throughout the world and six on its own soil, today most states face a shortage of gasoline that has led to long lines at gas stations around the country.
Venezuelans have spent hours in such lines, as they await a product that has been in short supply for several days in different cities across the country.
The morning of this Thursday, March 23, the country dawned partially paralyzed, as thousands of Venezuelans are unable to head to school or work.
"We are reinforcing our distribution in the center of the country to stabilize the fuel supply … Queues have been generated at some service stations in four states of the country, due to the delay in distribution of gasoline," said the vice president of PDVSA, Ysmel Serrano.
Serrano said that he has "enough" gasoline produced at the refineries and that he will work overtime until he has stabilized the distribution. He called on the population to maintain calm and "not to believe the false rumors of sectors that seek to spread chaos in the country."
The alleged "false rumors" have arisen in Venezuela because for several days numerous gas stations have remained closed, while the few who have fuel are the scene of lines that often exceed 50 cars.
Iván Freites, Fedepetrol's trade union official, reported on his Twitter account: "Two tankers are already making their way through Caracas with two tankers with 600,000 barrels of 91 and 95 octane gasoline that came from Houston bought by PDVSA from Lukoil and Warren."
According to the Reuters news agency, about a dozen oil tankers were waiting at PDVSA ports in Venezuela's Caribbean Coast, waiting to supply the nation with gasoline, and other refined products.
Meanwhile, this is how Venezuela woke up this morning, as the situation appears to be growing increasingly desperate:
#23Mar Así se encuentra Las Mercedes, congestionada por fuertes colas para surtirse de gasolina https://t.co/v8i0H0IImF – @vivoplaynet

— Reporte Ya (@ReporteYa) March 23, 2017
FOTO: En Quíbor y El Tocuyo tampoco tienen gasolina ni gasoil – https://t.co/JNsJyH1BTP pic.twitter.com/D0mNSrU3h2

— Elimpulso.com (@elimpulsocom) March 23, 2017
https://twitter.com/2RADl0/status/844684605500411905
Colas para suministrar gasolina en estaciones de servicio en Charallave [Hora: 9:00] pic.twitter.com/Nd9BCv4buS

— Efecto Cocuyo (@EfectoCocuyo) March 23, 2017
Source: La Patilla, El Nuevo Herald