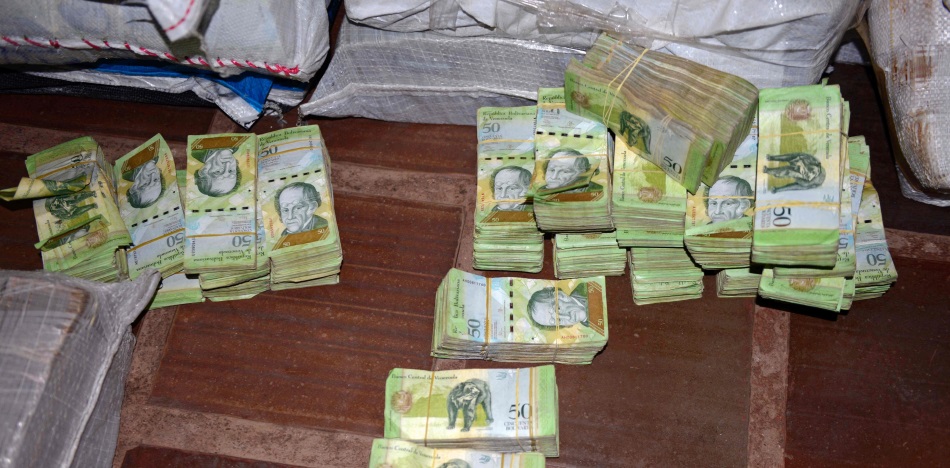 EspañolInvestigators have confirmed that the nearly 30 tons of 100 and 50 Venezuelan bolivar bills discovered in Paraguay were going to be exchanged for US dollars or other currency before their legal circulation was cut off.
The bolivars were going to be exchanged for dollars, euros or reales in Salto del Guairá before February 20, investigators said, before the legal value of the 100-bolivar note expired.
In total, that exchange would have resulted in about US $3 million, according to investigators.
The bills allegedly left the Venezuelan capital at the beginning of Nicolás Maduro's presidency in 2013, and remained hidden in Brazil until six months ago when they were hurriedly sent to Paraguay before being discovered by the Brazilian Federal Police.
The Paraguayan police, working with their counterparts from Brazil and the United States, reportedly did not rule out involvement by senior Venezuelan officials.
"We need to figure out the link of this scheme," one police investigator said on the condition of anonymity, "which could involve high officials of the Venezuelan government as well as those in other countries that allowed the cargo to reach Salto del Guaira."
"The bills entered from everywhere and for that to happen you have to have a good structure of contacts in the underworld," the official added.
The bills were discovered in the home of a family who owns a firearms business in Salto del Guairá: Leandro Da Costa and his wife Myrian Amaral de Da Costa — who is a former customs official and current municipal councilor in Salto del Guairá — as well as their three adult children Bruno José Andrés José and Herilo José.
Officials said the family is engaged in trafficking and arms trade with connections at the border that were made easier by their dual Brazilian and Paraguayan nationality.
The oldest of the brothers is currently in jail for a previous charge of money laundering and criminal association, among other things. He was also discovered shipping contraband weapons in Paraguay in 2010.
Andrés Da Costa Amaral, alias "Andi," is investigated in this case for his alleged connection with an international group looking to exchange the Venezuelan bills. Luis Alves Da Silva, alias "Sombra" or "Saci" and Bruno Fromhers Mongelós, both of Brazil, are also facing charges involved in the case.
Source: ABC Paraguay