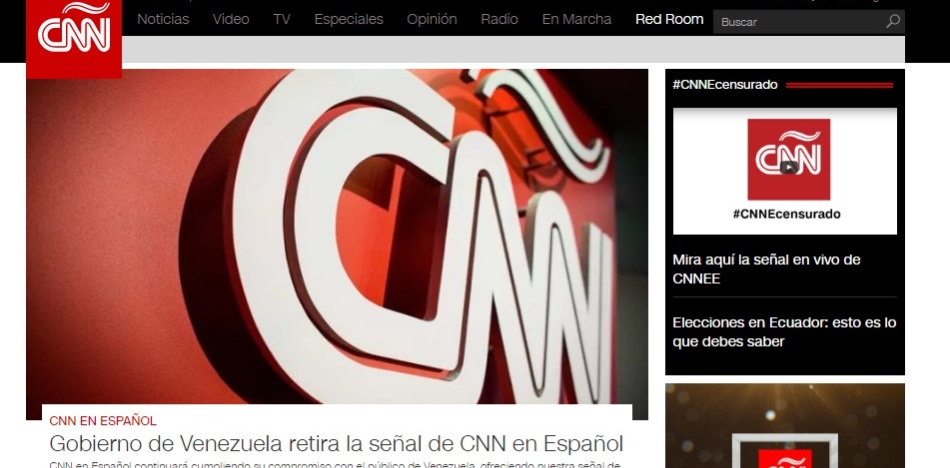 EspañolVenezuela will be blocking access to CNN following President Nicolás Maduro's order to have the United States-based media outlet removed from the country.
The country's National Telecommunications Commission (Conatel) announced it will apply blocks to CNN's webpage in the near future, an added level of censorship that follows its removal from television.
CNN followed up on a student's question to Maduro during an event regarding the lack of food in schools, which some officials described as "hurting Venezuela."
"All of our management operations are already … coordinating with all Internet service providers to, with the available technology, create the necessary blockades," Director of Conatel Andrés Eloy Mendez said.
Mendez stated CNN became "a cannon of instigation to racial, social and political hatred."
He accused CNN of using the Venezuelan flag "framed in blood," the face of President Nicolás Maduro "covered in red" and the word "crisis," which he said occupied "50 percent of the screen" every time the channel dealt with the current situation in Venezuela.
"CNN has the right to defend itself," he added. "We're moving past administrative lapses, the procedure was just opened yesterday and so it is going off the air as a precautionary measure. We are going to wait until the periods of 60, 70 days are fulfilled."
Conatel's official statement regarding the block accuses CNN of showing content that "constitutes direct aggression that undermines the peace and democratic stability of our Venezuelan people, because it creates an atmosphere of intolerance."
Last week, the news channel reported on a network of passports in the country for citizens looking to escape Middle Eastern countries.
"CNN said what they believed to be their research on a passport issue and in doing so, violated laws," Conatel's report said.
In recent hours, the international news channel has focused its programming on developing reports that reveal not only the reality of the crisis in Venezuela, but also gave special coverage to the US Department of the Treasury's sanction against Vice President Tareck El Aissami, which was international as well as national news.
Source: El Click