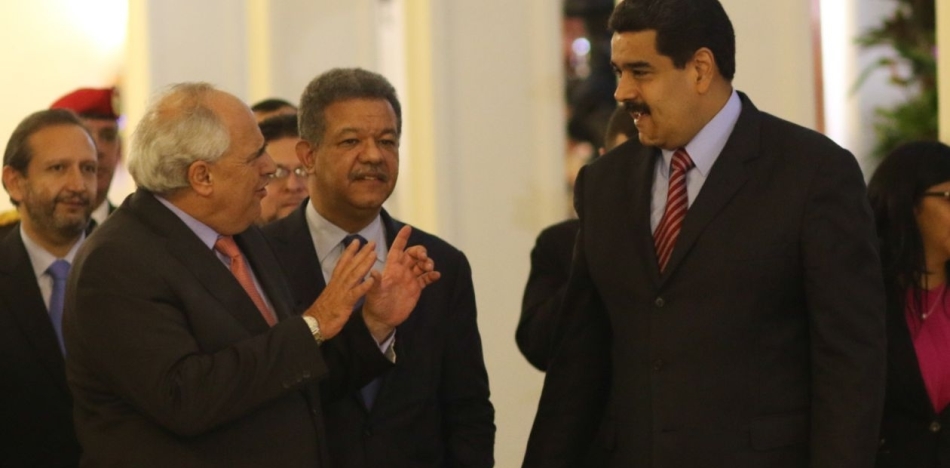 EspañolYet another external force is trying its hand at reviving the paralyzed dialogue between Maduro and Venezuelan opposition members.
The Union of South American Nations (Unasur) arrived to Caracas this week in an attempt to restart conversations between the two sides, which came to a halt after the opposition felt Maduro wasn't upholding his side's agreements.
This Thursday, January 19, Unasur Secretary General Ernesto Samper met with Maduro in the Miraflores Presidential Palace, a meeting also attended by former President of Spain José Luis Rodríguez Zapatero, former President of the Dominican Republic Leonel Fernández, former President of Panama Martín Torrijos and Venezuela's apostolic nuncio, Aldo Giordano.
Politicians Elías Jaua and Jorge Rodríguez, as well as the Executive Vice President of Venezuela Tareck El Aissami represented the government's side of the dialogues.
Talks have been strongly questioned by members of the opposition, who think Maduro's administration is not taking them seriously.
Vatican representative Claudio Maria Celli reportedly "resigned" from participation.
The real and formal reasons for the resignation are unknown, but some reports said he realized Maduro's administration was not complying with the agreements established for and after the talks, including releasing political prisoners, respecting the National Assembly and presenting an electoral timetable.
The Vatican decided to subsequently appoint the apostolic nuncio Aldo Giordano as mediator of dialogue.
Giordano also recently criticized the opposition for not following guidelines in the constitution that require certain procedures to go through the National Assembly, rather than the Supreme Court.
El Nuncio Aldo Giordano no sólo está presente en el TSJ, sino que también aplaude el discurso de Maduro.

— Gabriel Bastidas (@Gbastidas) January 15, 2017
At the end of 2016, both sides agreed to work together in a dialogue for peace in the country, but the opposition has alleged that the government breached the deal, which is why it won't sit down again.