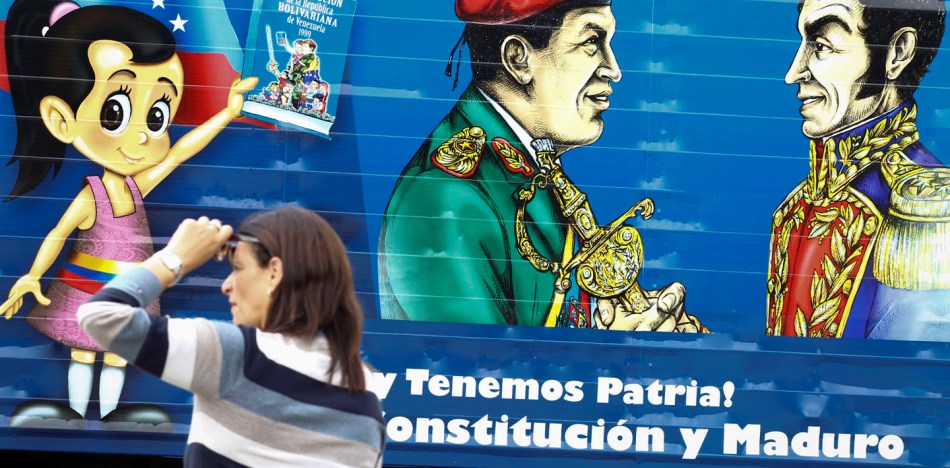 What many Venezuelans thought would never happen, has happened: a new national education curriculum that politicizes education in the South American country, and praises and glorifies socialism.
The news went largely unnoticed because Venezuelans are currently so preoccupied with Nicolás Maduro's order to take 100 bolivar notes out of circulation; nevertheless the new educational reform eliminates subjects from the curriculum and now refers to them as "areas of study".
The education program divides the curriculum into four components: Basic (language, culture and communication, mathematics, natural sciences, memorization, geography, and civics), Community Participation and Integration (arts, cultural traditions, health, physical education), Languages (any language other than Spanish), and Labor Training (any course or workshop that prepares students to perform a trade).
National Assembly deputy Milagros Eulate, who is also president of the Teachers' Association in Vargas state, said that the goal of the regime is to inculcate young Venezuelans with the socialist ideology, and teach them an untrue version of history.
"All of this curricular change is with the idea of politicizing the young people. The story is told according to the version that suits the government; they seek to sow aversion to democracy, while emphasizing socialism and equality," he said.
The way of evaluating students was also modified. Now students will be graded on a scale of 1 to 5, with 3 being the minimum passing grade.
The area called "Natural Sciences" includes Biology, Chemistry, Physics, Earth Sciences, Anthropology, Technology, Economics, Politics, and Health; a situation which obligates a single teacher to teach all listed subjects.
"The teachers are not prepared to teach several subjects simultaneously, we are trained in Venezuela to be specialists, whether our focus was pre-school education, or biology and physics, or geography and history, math, computer science, or chemistry. It is impossible for a teacher to master mathematics, physics, and chemistry, and then come to a classroom prepared to teach all those subjects," said Eulate.
The politicization of education in Venezuela is not new: in 2013 the Venezuelan government began to distribute its curriculum free of charge in public schools: the Bicentennial Collection and the Illustrated Constitution of Venezuela.
In the illustrated Constitution, the deceased Chavez appears 12 times, Simón Bolívar eight, and current president Nicholas Maduro appears three times.
School textbooks have been radically modified in order to promote the agenda of the Maduro government and the socialist ideology.
The "Social Sciences" book of the Bicentennial Collection is intended for second year students in secondary education; it is sponsored by the ruling party and provides key examples of how it seeks to politicize education.
The contents linked to the now opposition parties Acción Democratica and Copei are being demonized, to the point that the historic Punto Fijo Pact is renamed the New York Pact.
The Punto Fijo Pact was a governance agreement between the main Venezuelan political parties Democratic Action, COPEI, and the Republican Democratic Union, signed on October 31, 1958, a few months after the overthrow of the dictator Marcos Pérez Jiménez, which stabilized representative democracy in Venezuela, and prevailed for over four decades.
Another example was used to narrate the rise of Hugo Chávez to power in 1998, highlighting and praising the late president: "Until then, a president had not been elected who spoke so frankly to his people and resembled them so much."
At the time of reporting the oil strike and the coup d'etat of 2002 are described as: "An offensive of the bourgeoisie and the first great test for popular power and civic-military union"; directly parroting the official party line of Chavismo.
In mathematical problems, for example, the government's social programs are used as a reference, discrediting private initiative and enterprise.
Juanita bought a 32″ television and a washing machine through the Mi Casa Bien Equipada (a social program where the state sells domestic appliances at subsidized prices) program. If she had bought those appliances at a store, she would have paid 25% more for the TV and 33% more for the washing machine…What can we learn from comparing prices in one place and another?"
It is not the first time in Venezuela that the politicization of children is news; In 2015 parents reported that in state schools their children were forced to complete an "anti-imperialist" task.
On that occasion, children were asked to write a letter directed to US President Barack Obama in retaliation for declaring Venezuela an "unusual and extraordinary threat" to US foreign policy and security.
"By order of the Ministry of Education: Tomorrow bring a letter addressed to Obama telling him 'Don't mess with Venezuela' " said the exercised aimed at children between six and seven years old in first grade.