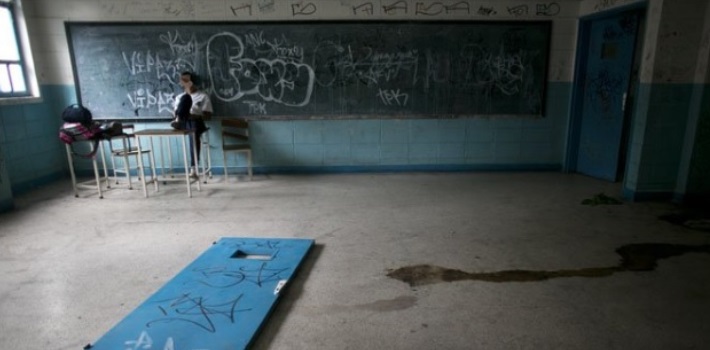 Read more: Venezuelan PDVSA Bonds Downgraded Again amid Default Worries
Read more: Armed Gangs Are Taking Over Hospitals in Venezuela
The private school Ser y la Fe in the state of Miranda had enrolled 139 students divided into special education, with 83 students, and Education for Youth and Adults, with 56.
After a salary increase announced by the Venezuelan government last August 12, the school had to increase monthly tuition from VEF $12,000 to $35,000. Only 19 families said they could afford the price increase at a school meeting.
The Cruz Vitale School located in the state of Carabobo experienced a similar situation. Its directors decided to shut down its operation in June due to high levels of abscences.
The Tanaguarenas College in Vargas, with enrollment of about 300 students from Kindergarten through high school, also closed its doors.
"The school definitely will close," an official said. "Parents were advised to relocate their children. Owners can no longer cover personnel costs and maintenance."
According to a survey published by the Commission for Social Development of the National Assembly, 17 percent of people said they needed to take their children out of private schools because they could not afford them.
Current monthly payments in some schools exceed three minimum wages in Venezuela before the cost of uniforms and school supplies.
The wage increase announced by Nicolas Maduro plus the delay in payment of the monthly installments by the economic crisis makes it difficult for schools to cut their staff, their suppliers or their service providers.
The Ministry of Education said there were 4,118 schools and private education centers in the country last year. This figure represents 15 schools less than the 4,133 recorded in 2014.
"This year promises to be very difficult for both public and private education," Director of the Parent Network Lila Vega said. "The economic situation threatens classrooms' ability to remain open."
Alarming dropout rates
The Venezuelan-Action Human Rights Education Program (Provea) said the school situation is worrying because more poverty is putting an increasing number of young people on the streets instead of in schools.
The biggest concern for many experts is the government's inability to ensure food for all children in public schools, since 33.6 percent of families admitted they did not send their children to school last year because there wasn't food for them to eat during the day, according to a poll released last week by the Commission for Social Development.
Director of Provide Marino Alvarado expressed concern about the finding, saying that:
"The crisis is bringing children into the classroom not only because they have to accompany their parents to the line to buy food but because they have to figure out how to make money to help support their home."
On Wednesday, September 21, the Venezuelan government announced that private universities are not allowed to increase their monthly payments.
Deputy Minister for Education and University Management Andrés Eloy Ruiz said such a rise at private universities would be "inconsiderate and unjustified as we seek to maintain indiscriminate profits."
But the situation in the university sector is not exempt from the crisis in Venezuela. While the government announced the wage increase in August, private institutions are prohibited from making an increase, so it is unknown how they fulfill their payment commitments.
In such a situation, universities would possibly have to close their doors as well.