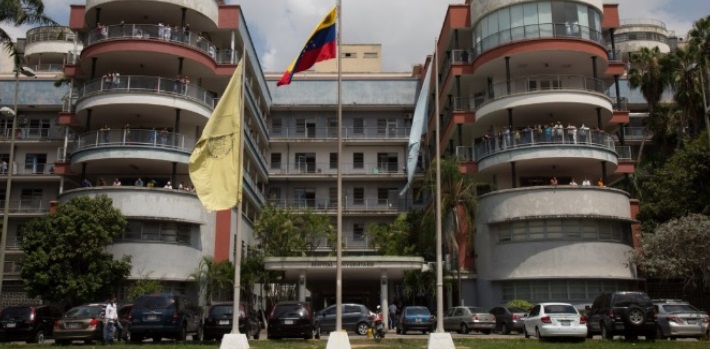 EspañolDespite protection from state-appointed security officials, Caracas University Hospital (HUC) in Venezuela has reportedly been taken over by an armed gang.
At least 20 armed people have taken over an office on the ground floor of the hospital, as well as performing during as guards, orderlies, attendants and supervisors.
The group reportedly has total impunity, to the point that its members have been able to shoot patients and bystanders in full view of officials of the Bolivarian National Guard (GNB).
According to the report, the group has been responsible for threats on workers who ask for better working conditions.
"Employees come to work in fear," Director of FetraSalud Pablo Zambrano said. Many are locked in their offices and do not leave until the end of the day."
Three weeks ago, a sick family member of the gang was admitted to the hospital, and the doctor who treated him received threats
"'You better treat me well, because if I die, you will pay for it,' the man told me," said the doctor, who declined have his name used in this article.
Other hospitals have seen similar problems.
There has been fighting between gangs at the Coche Hospital as well. Resident physician Warner Martinez said that two months ago, two masked men took over the emergency room.
They were looking for a patient with a gunshot wound and wanted to finish him off. They demanded that the doctors surrender or risk losing their lives.
"There was no other choice but to let them take him," Martinez said. "The two guards and two army officers who were in that area could do nothing."
The hospital in Los Magallanes de Catia in Caracas is no exception. Armed groups harass health workers who have decided to stage street protests for more medical supplies.
Around 20 to 30 men riding motorcycle opened their jackets to the protesters, revealing their firepower in hopes of deterring them from continuing.
Old women with hand bags also threw stones at the protesters.
"It rattled them when we demanded claims. Protesting in this country is a crime and people seek to silence these actions," said Rosa Torrealba, Traumatologist at Los Magallanes de Catia. "In recent months they have calmed down, I guess because they are also affected by the crisis."
Source: El Nacional