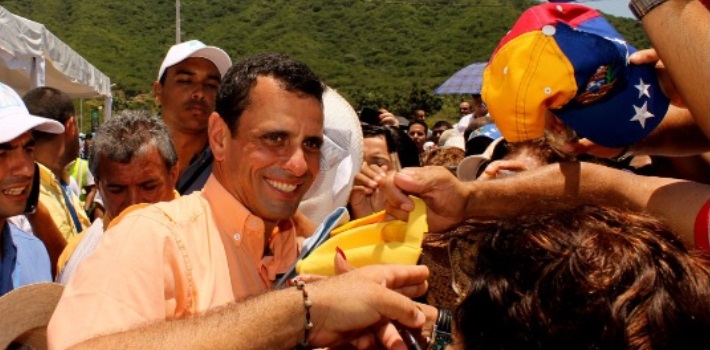 EspañolArmed crowds reportedly detained Opposition Leader Henrique Capriles for more than four hours at the airport on Venezuela's Margarita Island this week.
Capriles, who travels every year to the island to commemorate the day of the Virgen del Valle, was detained by an armed group of government supporters that surrounded the airport to prevent him from leaving. At noon, the governor was finally able to get out.
Meanwhile, the Island's governor blamed President Nicolás Maduro for the violence that arose there.
"Maduro sent me to the airport with armed groups in Margarita," he said on Twitter, "which beleaguered passengers, children, everyone. I hold him responsibility for what happened."
"To the international media, we are besieged by armed gangs Maduro Government Margarita airport, home NAM Summit", published in the social network.
He called on the countries participating in the Summit of the Non-Aligned Movement (NAM) to be aware of the situation occurring at the headquarters island. "To the NAM countries' ambassadors, tell your governments that the airport for the Summit's venue was allowed to be put under siege by armed gangs."
The governor made a video via Periscope that shows the door from the Airport being blocked by a group of people who try to force their way to the site, while security forces are guarding passengers accompanying the opposition leader.
Margarita Island, which will host the Summit of Non-Aligned Countries this month, has been the site of heavy protests.
At that time the president of Venezuela lost control of the crowd, which attacked him with pots and pans. A new political prisoner was also taken — journalist Jatar Braulio,who released footage of the event.
Sources: El Universal; El Nacional