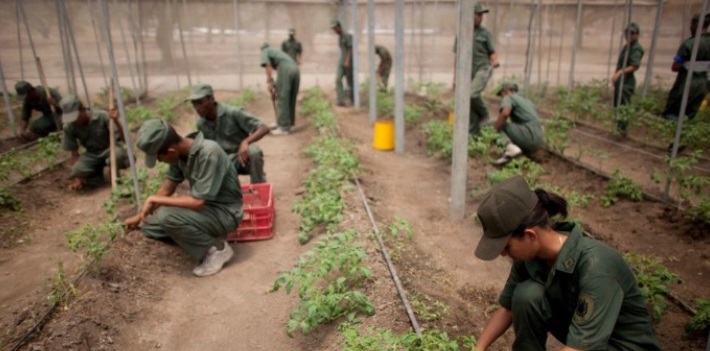 EspañolVenezuela will be appointing a "general" for 18 foods that are scarce in the country, officials announced Wednesday, August 24.
The announcement was made by Defense Minister Vladimir Padrino Lopez, who who was recently given power over the economy by President Nicolás Maduro.
"I have assigned a general, along with a civilian-military team, for each food item," the minister said. "A general or admiral will be chief of rice and will display on a map everything related to production, importation and commercialization."
Padrino, in charge of the "Great Sovereign Mission for Sure Supply" project, announced the creation of a special support team with 250 rescue workers and 1,700 community leaders for harvesting crops.
"With this effort, we seek to really govern the 18 commodities, in both food and medicine," the general said without specifying which items are included in the 18.
The minister added that a special commission was established to address the issue of distribution of medical supplies, which has reached a shortage of 81 percent. He said the government will continue not allowing private pharmaceutical to take care of the distribution.
According to an unreleased report, nine items are at critical levels of raw material supply: sugar, rice, corn flour, mayonnaise, wheat bread, food for pets, cheese, crackers and pasta.
In July, Maduro decided all state ministries that manage the country's economy would now fall under the "order and absolute subordination" of Chief General Padrino López.
The strong military presence involved in the process was rejected by President of Consecomercio Cipriana Ramos, who said he sees flaws in the idea.
"The problem isn't not having a guardian," he said. "The problem is that there are no production or imports (down more than 50 percent to date), so there is nothing to distribute. "
Director of the Caracas Chamber of Commerce Victor Maldonado said he believes the "militarization of the economy" announced by the head of state "ensures the total collapse of the production sector."
Sources: El Tiempo; El Nacional