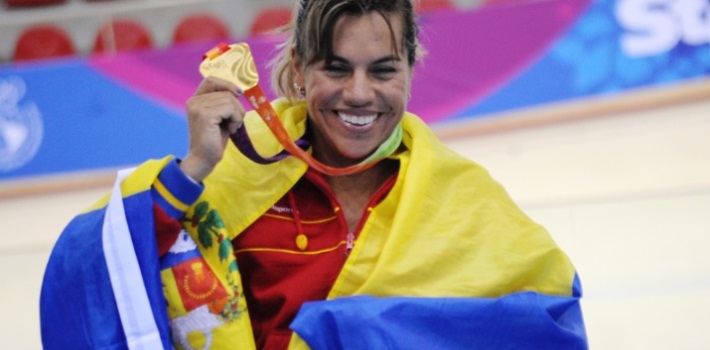 EspañolAt the end of the olympics in Rio, Venezuelan cyclist Daniela Larreal came out about her country's use of sports to traffic drugs.
Larreal, who remains in exile after speaking about the illegal practices of the Sports Ministry, went on the radio show The Force of the Union and claimed the Venezuelan government hid behind its athletes to traffic drugs.
"This government tries to hide behind the athletes … to all the Venezuelans, I say: Maduro is not giving us anything. Resources for athletes are a duty of the State, that's what the law dictates."
She added: "The state uses sports to smuggle drugs by using the flight to justify travel expenses."
Venezuela won two bronze medals at the 2016 Rio Olympics, one silver and nine Olympic diplomas.
Larreal was proud of the participation of her country but also described as "shameful" the many athletes having to make sacrifices to pay for their expenses the Ministry will never reimburse them for.
Venezuela urged the National Assembly (AN) to conduct an audit of the Ministry of Popular Power for Youth and Sports as well as the sports federations, both of which have been steeped in corruption for years, she claimed.
Daniela Larreal is currently exiled in the United States for having denounced corruption cases plaguing athletics in Venezuela.
"I have received many death threats after denouncing so much corruption," she said. "My father told me not to return to the country."
Erwin Maldonado had to sell his car to prepare for the aquatic marathon at this year's Olympic Games. He said that for sports authorities in Venezuela, discipline was not a priority.
Maldonado participated in the Olympics but came second-to-last in the competition. He explained that the support of the Venezuelan Olympic Committee (COV) and the Ministry of Sports, arrived "late" and so he was forced to sell his vehicle.
"I was the black sheep. I was not a priority, it was not a priority," he said. "I had to sell my car to prepare. …We must evaluate this, I will not name anyone, but I'm sure that if President (Nicolás Maduro) learns how things were done, there will be people to pay," he said.
"I hope God gives me the opportunity to talk to him and tell him what I am suffering. He earmarked a lot of money for sports, which reached some athletes, but not others," Maldonado said.
Sources: Unidad Venezuela; La Patilla