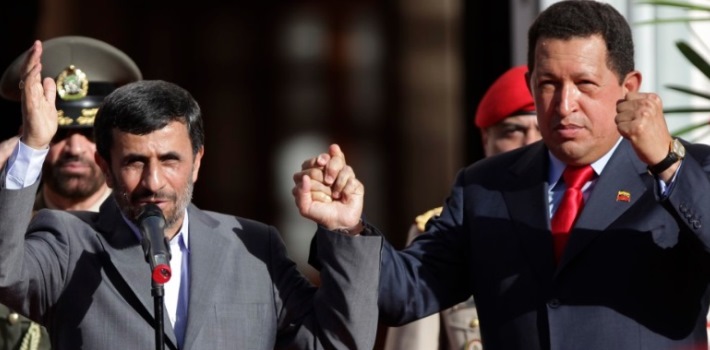 EspañolA Brazilian magazine has accused Venezuelan President Hugo Chavez of having helped Iran evade nuclear weapons sanctions put in place by the United Nations (UN).
The magazine Veja stated in its August 19 publication that the Chavez administration secretly helped sponsor Tehran with the production of raw material for nuclear weapons and rockets.
A document dated August 3, 2009 shows President Hugo Chavez's signature approving financial help with an atomic bomb.
Chavez authorized the release of funds for the import of gunpowder factory equipment in August 2009, as well as to reform production plants of nitroglycerine and nitrocellulose for the Iranian government. The nitrocellulose provided by Hugo Chavez was reportedly used in the construction of rocket propulsion engines.
As a member of the UN, Venezuela is obliged to comply with the 2007 sanctions imposed on Iran. The Security Council unanimously adopted a resolution imposing sanctions on Iran for refusing to suspend some parts of its nuclear program.
Another resolution prepared by France, Britain and Germany prohibits member countries from trading with Iran in a series of clearly defined rules related to its nuclear program and ballistic missile fields.
According to Veja, suspicion about the alliance between Chavez and Iran President Mahmoud Ahmadinejad surfaced in January 2009 when the Turks intercepted an Iranian shipment to Venezuela.
Venezuela had 22 containers that were declared as tractor parts, but were actually chemicals for manufacturing explosives.
According to expert on external sanctions Emanuele Ottolenghi, the document published by Veja is "the first evidence of the Venezuela-Iran cooperation that helped the regime of the Ayatollahs in its weapons program."
This is not the first time the ties between Venezuela and Iran were made "unofficially" known. In March 2016, it was discovered that the former Argentinean spy Antonio Stiuso said then-President of Venezuela Hugo Chavez interceded with Argentina's Nestor Kirchner so as to resume nuclear cooperation with Iran.
According to Stiuso, the prosecutor Alberto Nisman Stiuso knew of Chavez's request, which was one of the motives for his allegedly having been murdered.
Source: Veja