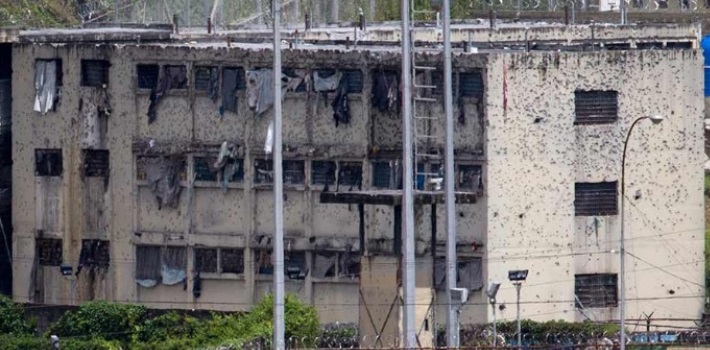 EspañolAs Venezuela's economic and medical crisis worsens, many have questioned whether jails offer higher quality of life to citizens than those on the outside searching for food and waiting in endless lines.
One of the most dangerous prisons in the country, Tocorón, not only has a pool, shops and a running track, but the food and other goods so many lack in Venezuela's main cities.
The country's food shortages exceed 80 percent in the Venezuelan capital. Most Venezuelans wake up early to stand in long lines sometimes for as long as 12 hours.
In Tocorón, inmates reportedly have a large inventory of sanitary napkins, milk, flour, rice, eggs, meat, chicken and shampoo.
A report published by local newspaper El Nacional said Monday, August 15 that some inmates did not "need" to wait in long lines to get commodities, as their boyfriends prepare them packages with what they need to eat and live.
"My boyfriend, who is in prison for robbery, makes a package all weekend that includes toothpaste, sanitary napkins, milk, rice flour, oil, eggs, shampoo, meat and chicken. I don't have to leave early to see if I can get something at the market,"  said one visitor at the prison. "There's everything here. I even  shop and sell them to my neighbors, who are desperate because they get nothing in the San Vicente de Maracay."
Women not only enter prison to visit their partners but can also shop without long lines.
The prison reportedly sells a lot of its food informally, as much of it comes stolen off of food trucks.
"There are connections between pranes (leaders of prisons) and road pirates that subdue the drivers of such vehicle and then leave them abandoned," one prison inmate said.
Source:El Nacional