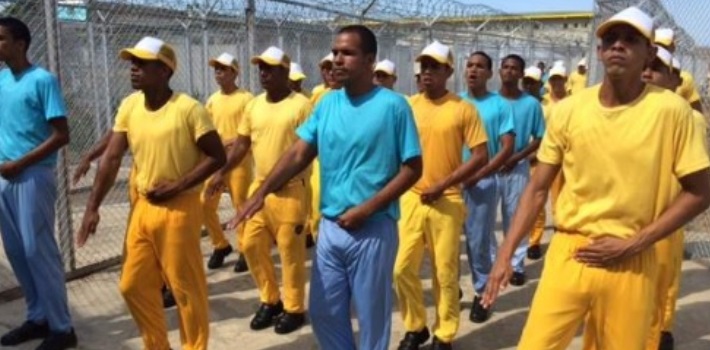 EspañolThe Venezuelan government released at least 300 inmates this week in defiance of the governor of Miranda Henrique Capriles Radonski. Capriles allegedly forged the signatures of more than 1,300 people who were put in jail.
Minister of Correctional Affairs Iris Varela said the opposition used the information of hundreds of incarcerated people by making them "sign" the revocation referendum against Nicolás Maduro.
"They dared to use information of over 1,300 inmates … they couldn't physically or legally sign. Over 300 inmates from Yare, Rodeo and Inof correctionals have claimed to be victims of the fraud," said the government official.
"We have a list of 81 inmates already verified [in the CNE list for the Referendum]. I'm requesting that the public ministry ask the CNE for the information so we can cross reference the 50,000 inmates in prison. I'm pressing charges against Henrique Capriles, who must take responsibility. They don't want to revoke this adminstration, they want to bring a coup."
The formal charges, as the minister announced, come against Capriles for an alleged forgery felony.
Dressed from head to toe in blue, yellow and pink, 300 inmates gathered before the main office of the Public Ministry in the town capital guarded by National Guard military.
Inmates chanted "fraud, fraud," along with the crowd, while members of the government and chavismo officials filed a petition for "identity theft" against leaders of the opposition Democratic Union Table (MUD) party.
The CNE invalidated over 600,000 signatures on the referendum, so far without an explanation.
Specialist in Electoral Affairs Eugenio Martínez confirmed 7,823 signatures were ruled out because President Nicolás Maduro was incorrectly written, 3,003 for being underage, 97,158 for belonging to people in a state where they don't vote and 10,953 because they were already deceased. In all states, the one percent necessary threshold was exceeded.
After this signature recollection, another must be made, this time with at least 20 percent of the eligible voters — around four million.
Sources: Sumarium; El Nacional