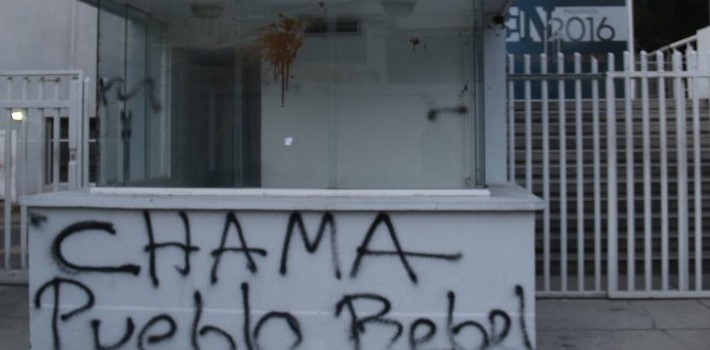 EspañolTwo independent Venezuelan newspapers, El Nacional and Correo del Caroní, were attacked this week with guns, animal feces and political hate messages. The criminals left a political note in favor of Nicolás Maduro's administration and against the news spread everyday by the main independent newspapers of the country.
The aggressors were reportedly members of the collective "ChaMa Pueblo Rebelde," one of the armed groups backing the government's socialist ideas.
As the effected newspaper states, the suspects tried to break the locks, and threw things. They left a leaflet that stated the newspaper "continues generating chaos with their work."
"Just as they were key to the 2002 coup of commander Hugo Chávez, they continue on their filthy task of misinforming, generating chaos and favoring macabre, foreign and imperial intervention," the note read.
A similar event took place in the Correo del Caroní office last Wednesday, June 15. Unidentified subjects hurled bags with animal feces at the office.
Encapuchados atacaron este martes la sede de @CorreodelCaroni. https://t.co/bQ1tNYZFEu pic.twitter.com/8j8prGW3OJ

— Correo del Caroní (@CorreodelCaroni) June 15, 2016
This Tuesday, hooded men attacked the offices of @CorreodelCaroni. http://bit.ly/1WNHXML
Video recorded by security cameras caught five suspects, four of them with covered faces, throwing bags of excrement and vandalizing the front of the building.
The aggression lasted a few minutes, until security personnel noticed what was going on and went out to check.
"We are not intimidated. We reiterate our commitment to independent journalism and freedom of speech," tweeted Correo del Caroní.
Defendemos y mantenemos todas nuestras publicaciones en 38 años de trayectoria periodística. Que quede claro: #InformarNoEsDelito.

— Correo del Caroní (@CorreodelCaroni) March 12, 2016
President of the National College of Journalists (CNP) Tinedo Guía rejected the vandalism on the outskirts of the office of the El Nacional newspaper, calling the act "idiotic" and harassment.
"Journalists keep defending press freedom and the role of journalism," he claimed, and added that in his view, the agression was not only directed at the newspaper itself, but against all the workers within it.
Regarding the aggression against Correo del Caroní, he claimed the media is keeping an editorial stance contrary to socialist policy because "the country has already rejected it."
"May God protect us," the journalist said about the possibility of worsening agression. He said "only a sick and deranged mind could plan this attack."
Sources: El Nacional; Correo del Caroní