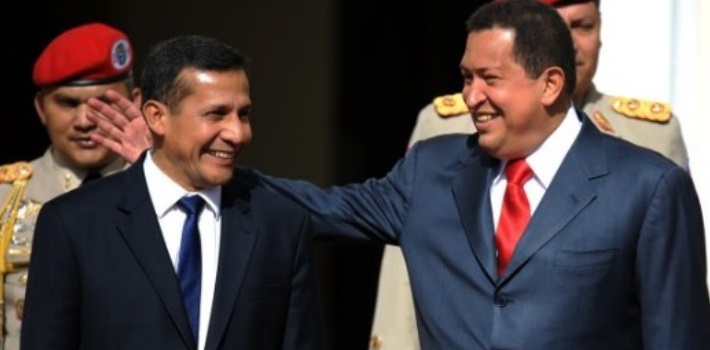 EspañolA hearing involving first lady to former Peruvian President Ollanta Humala, Nadine Heredia took place Thursday, June 16, about money laundering allegations that resulted in her receiving a four-month international travel ban.
During the hearing, the prosecutor Germán Juárez Atoche revealed he had a letter from former President Hugo Chávez Frías mentioning donations to Humala's 2006 campaign of USD $600,000 and USD $2,000,000.
The local media outlet RPP summarized the prosecutor's recent revelations:
According to attorney Juárez Atoche, the letter was drafted on red ink by President Hugo Chávez himself. The letter contained the money used to finance the Partido Nacionalista campaign in 2006. However, the attorney realized the letter would be subject to tests to determine its authenticity.
According to the RPP, the prosecutor said Ollanta Humala won the 2011 presidential campaign using dirty money from Brazilian construction companies.
The head of the Preliminary Investigative Court Richard Conception Carhuanco reviewed the request to ban the First Lady Nadine Heredia from travelling abroad, along with her brother and his friend Rocío Calderón.
According to the judge's office, the over PEN $5 million (US $1,515,151) that Ilan Heredia (brother of Nadine Heredia and head of nationalist finances) deposited in the party accounts aren't justified.
In April, the Republic of Peru's Congress, through their Fiscalization Committee, found evidence that the first lady Nadine Heredia had presumably committed felonies of money laundering and tax fraud.
According to the investigations, the first lady had the money in cash, with expenses and security boxes of illicit origin.
This conclusion was consolidated by the tax filings submitted to the National Agency for Tributary Adminstration and received by Heredia in between 2005 and 2015 of PER$ 956.838 (US $294,000). This shows the large difference between the amounts registered as incomes in the documents, in currencies like Euros, Dollars and Swiss Francs.
Source: RPP