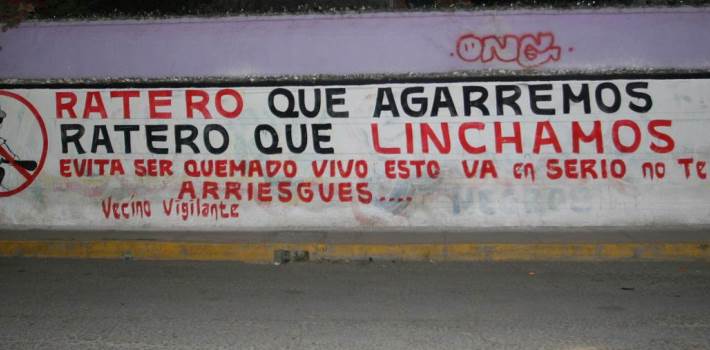 EspañolThe Constitutional Chamber of the Supreme Justice Tribunal in Venezuela has ordered the prohibition of all digital media in the country showing lynchings.
According to the order, digital press will not be aloud to inform Venezuelans about acts of hanging through audiovisuals, nor through social media.
The new rule is due to a lawsuit brought against La Patilla y Caraota Digital.
The prohibition will also extended to all national media communication with the ability to broadcast videos online.
Judge Lourdes Benicia Suárez Anderson said the country's constitution gives "social communicators" the right to express the news journalistically, and users have the right to receive adequate information. However, he emphasized this does not give media the right to create anxiety and uncertainty in the population, since "social communication" should ultimately contribute to the development of the individual and of society.
Lynchings have unfortunately returned to being a common act in Venezuela. According to a report by the Venezuelan Education Program's Human Rights Division, there were somewhere between six and 25 hangings every year between 2001 and 2011.
But in 2015, those numbers reached historic highs. Between January and October, there were 38 lynchings throughout the country. During the first three months of 2016, there were 29 reported lynchings. Not all cases resulted in the death of the lynched person, but the majority of people were at least badly injured.
A February study done by the Venezuelan Observatory of Violence (VOV) revealed that 60 percent of the population approved lynching while only 32 to 34 percent rejected it.
VOV Director Roberto Briceño León said "fatigue, anguish and the abscence from state protection have made public reactions more intense and violent."
The majority of lynching cases that VOV has studied and observed were against people that had tried to rob someone on the street — pickpockets, or people who snatch cell phones and try to run.
"It doesn't happen to gangs because they walk in large groups and it's too difficult to lynch just one of them," the specialist said.
Source: Entorno Inteligente; El Nacional