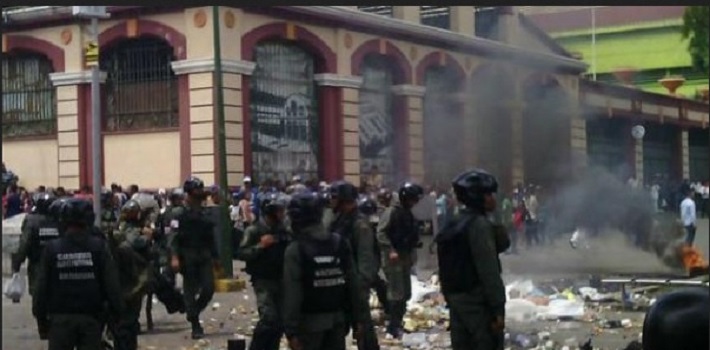 EspañolVenezuela was a pressure cooker Tuesday, May 31, as a popular area of Caracas became the scene for massive protests over food shortages.
The city's poor in Catia — one of the neighborhoods most effected by the shortages — was so desperate, that hundreds of them gathered in front of a supermarket where a lack of food caused tempers to flair to the point of looting.
ÚLTIMA HORA | HAMBRE EN VENEZUELA – Reportan intento de saqueo en el Mercado Municipal de Catia. pic.twitter.com/zqUKX6wRXq

— AlbertoRodNews (@AlbertoRodNews) May 31, 2016
Before the situation got out of hand, the National Guard arrived and began shooting rubber bullets to disperse the crowd, who was chanting "We are hungry, we want food."
Reporter Daniel Colina published a series of photos that show just how strong the National Guard is while controlling the crowd.

A similar situation took place in Guarenas, where a group of people began protesting food shortages. According to the newspaper El Nacional, the demonstrators burned tires and blocked roads to prevent vehicles from passing.  
This demonstration was also broken up by the National Guard.
Protests regarding food shortages and other basic necessities in the country as run by President Nicolás Maduro have become part of everyday life in Venezuela. Looting at different markets in the country is now recurring news in the local media.