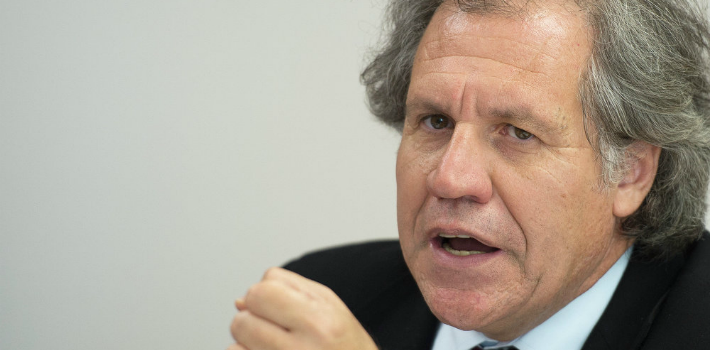 Español Politicians and human rights advocacy groups from around the world invoked the Democratic Charter for Venezuela on Tuesday May 31, the Secretary General of the Organization of American States (OAS) Luis Almagro has announced.
Conforme Artículo 20 invoco la Carta Democrática Interamericana @OEA_oficial #InformeOEAVzla https://t.co/NJ0h7Fuh39 pic.twitter.com/ztjucj32NF

— Luis Almagro (@Almagro_OEA2015) May 31, 2016
In a statement to all participating countries, Almagro requested a Permanent Council on June 10 and June 20 to continue carrying out the procedures required for implementing a defense of democracy in Venezuela, which is currently under dictatorship-like rule by Nicolás Maduro.
The Permanent Council intends to make the "necessary diplomatic initiatives … to promote the normalization of democratic institutions" in Venezuela.
In a press release, Almagro said if these diplomatic efforts do not succeed, "the Permanent Council shall create a special session of the General Assembly to adopt the decisions it deems appropriate."
The Permanent Council may, with the approval of the majority of its 34 member countries, conduct diplomatic efforts to promote "normalization of democratic institutions" in Venezuela.
If those efforts fail, the Permanent Council will convene — with the vote of at least two thirds of its members — a general meeting of foreign ministers of the continent, which could determine more extreme sanctions against the country.
Venezuela is the first country to to be handled under this procedure to defend democracy, which in recent years has been severely affected by the political, social and economic constraints that have plunged the country into general crisis. This is an unprecedented step for the Organization of American States.
Notably, Human Rights Watch (HRW), the Union of Latin American Parties (UPLA) and the Congress of Costa Rica also asked the Organization of American States (OAS) to issue a Democratic Charter in Venezuela after the Venezuelan President decreed a State of Emergency.
Source: OAS.org