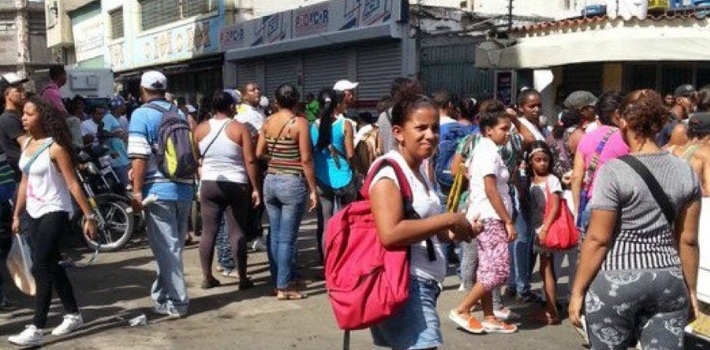 EspañolProtests in Venezuela intensified in response to the country's food shortages this week, as people took to the streets in Guarenas — a city 15 miles east of Caracas — on Tuesday, May 17 to demand their provisions from supermarkets.
The absence of food for several days in a row — primarily at the supermarkets Paga Poco y Día a Día — was the main reason people began the new wave of protests.
"@AnonsVenezuela_: #Video Guarenas en la Calle exigiendo comida #17M pic.twitter.com/9M4Op5WIby @antenax2"

— Julio Cesar Diaz (@MiDberCiudadano) May 17, 2016
Guarenas, the city in which Caracazo began, remained completely paralyzed Tuesday as people walked down Avenida Intercomunal yelling, "we want food."
Public transportation was suspended as well, businesses closed their doors, but there was still looting.
According to the news site El Pitazo, the police fired shots into the air in an attempt to disperse the crowd, while groups of people walked through the streets with sticks and other objects trying to break into the shops.
According to local media, protesters were claiming that the supermarket Día Día, one of the main distributors of food in the city, is currently under the control of the government, and has been closed for a week because no products having been delivered.
In another supermarket Paga Poco, no regular products have arrived for several days. Last week, there were three attempts to loot the establishment, because people thought there was hidden food.
On May 11, looting in Venezuela left people injured, on top of thousands of dollars worth of damages. The last two weeks have seen looting turn to pharmacies, commercial centers and food carts. In some places, people have been chanting, "We're hungry!"
The ghost of "Caracazo" is looming over Guarenas, with 166 lootings this year alone, according to the Venezuelan Observatory Observatory for Social Unrest.
Source: Pitazo