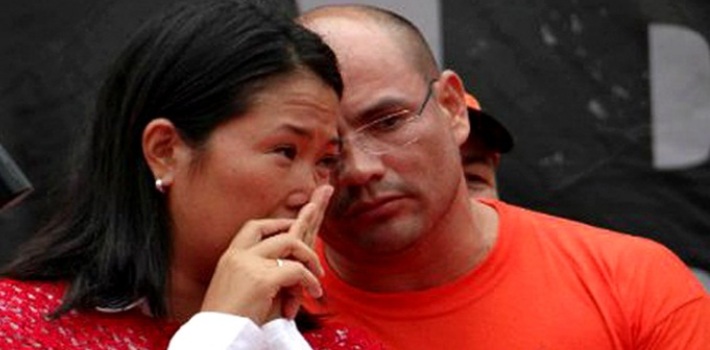 EspañolThe US Drug Enforcement Administration (DEA) is investigating the Secretary General of Fuerza Popular Party (FP) Joaquin Ramirez and Peruvian presidential candidate Keiko Fujimori for alleged money laundering.
According to a report by Univision and the television show Cuarto Poder, the DEA is investigating a recording in which parliamentary Joaquin Ramirez claimed to have laundered US $15 million that Fujimori used for her 2011 presidential campaign.
The investigation presents the testimony of Peruvian commercial pilot Jesus Francisco Vasquez, who has resided in the US for five years and claimed he worked for the US anti-narcotics agency.
Vazquez told reporters that he used a hidden recorder that was part of an undercover operation in Miami, which caught Ramirez's comments about Keiko Fujimori in 2013.
"He (Ramirez) suddenly started talking and said: 'You know that 'la china' gave me US $15 million last year to launder for the 2011 campaign, and I laundered them through a chain of … gas stations,'" the pilot told to the authors of the report.
Given this assertion both Univisión and Cuarto Poder consulted the DEA on the case. Spokeswoman Judith Anne Lambert confirmed that an investigation on the case did exist.
"It's a sensitive investigation and is ongoing and we can not comment," she said.
The Public Ministry of Peru ordered a preliminarily investigation of Ramirez for alleged money laundering a year and a half ago, but the investigation was unsuccessful because the court required more evidence in order for the prosecution to surpass parliamentary immunity.
The laundering investigation against Ramirez includes several gas stations listed in his name.
Reactions
Ramirez called the report "false and defamatory" and claimed it had a "political purpose."
Leader of Fuerza Popular, Keiko Fujimori did the same, clarifying that she has never delivered or managed money in her campaign.
"It is absolutely false," she said.
The candidate said that campaigning was a "dirty war" and blamed rival political party Peruvians for Change, led by Pedro Pablo Kuczynski, for the accusations.
"It is very unfortunate that the campaign has to sink to this level," Fujimori said.
Sources: RPP; El Comercio.