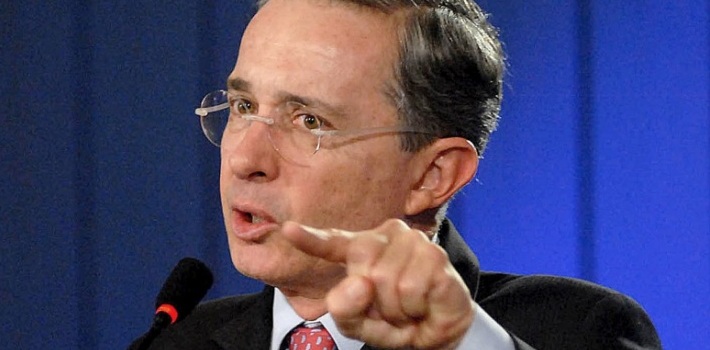 EspañolFormer Colombian President and opposition leader of the Democratic Center Alvaro Uribe asked his country this week to take "civil resistance" against the peace agreements taking place between The Revolutionary Armed Forces of Colombia (FARC) and the government.
The former president and current senator noted that citizen resistance would consist of marches and demonstrations, but these suggestions were met with controversy nationwide.
"Civil resistance is a constitutional form of opposition to this agreement of impunity with the FARC that creates new violence … it is not sustainable because it is in clear violation of the International Criminal Court," Uribe said.
He said he was not happy with the direction the talks are heading, because it lets FARC fighters off the hook.
Read More: What Else WillColombians Yield to FARC in Peace Talks?
"One of the issues we have to invoke against the plebiscite for citizens to vote no or abstain is that the agreement in Havana is open and disguised impunity. Open because the government accepted that drug trafficking is associated with a political offense, hence the world's largest cocaine cartel will not go to the jail, or be extradited."
Reactions
Senator Roy Barreras from the U Party, who is also the Chairman of the Senate Peace Commission, said he is "sad" that while the international community is waiting for peace, a former president of the republic and his party are trying to prevent it.
Minister of the Interior Juan Fernando Cristo described Uribe's call to civil resistance "delusional and regrettable" because Colombians "have resisted 60 years of war" that now must end "with the agreements in Havana."
Senator Antonio Navarro Wolff from the Green Party Alliance, who was a guerrilla member of the defunct Movimiento 19 de Abril (M-19) said it was "unthinkable" to build civil resistance against a peace agreement and compared Uribe's attitude with United States Republican presidential candidate Donald Trump.
Sources: La Fm; El Colombiano.