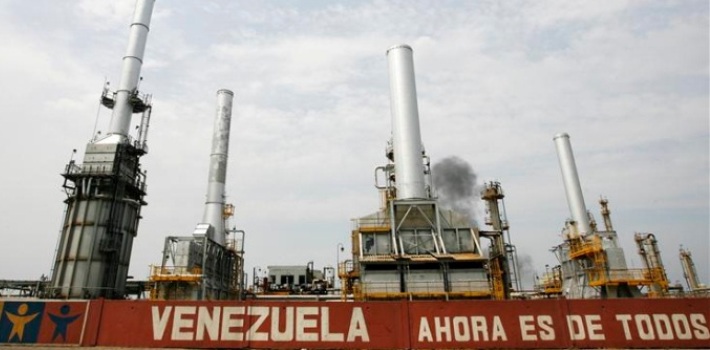 EspañolVenezuelans have yet another hardship to overcome in trying to survive the country's economic crisis, as it was announced Monday, May 9 that the El Palito Refinery — the main supplier of fuel in Venezuela — has halted operations with less than 10 days of inventory remaining.
The newspaper La Verdad reported that the stoppage will last 45 to 60 days.
Executive Secretary for the United Federation of Oil Workers Rober González told the newspaper that Venezuelan refineries may have been sabotaged by some contractors and managers.
On top of this report, the newspaper wrote last Friday, May 6 that there are very few days-worth of gasoline left.
According to Secretary General of the Falcón Oil and Gasoline Workers Syndicate, "a ship of 150,000 barrels of Tame, an oxidant used to obtain the necessary octane rating in petroleum, is stalled at the Cardón refinery. They asked for payment in cash, but Petróleos de Venezuela (Pdvsa) has not completed the payment to date."

Fréites said the situation has become "serious" because Venezuela only receives 10 to 15 shipments with 300,000 barrels of gasoline each month.
According to La Verdad, Complejo Paraguaná Refinery operates at a 108,000-barrel capacity, but reported it was only processing 60,000 barrels per day.
The Cardón Refinery also stopped production starting March 31, while El Palito, able to produce 140,000 barrels, produced 70,000 daily until stopping altogether.
In the Puerto La Cruz Plant, workers reported that production is only operating at 30 percent capacity.
"We have turned refineries into plants that just mix and repackage [imported] fuels," Freites said. "The situation is so extraordinary that we have even imported gasoline from Spain, something unheard of. The Venezuelan state also orders fuels from the United States, Russia and India through a foreign PDVSA subsidiary, Citgo, because the government no longer has credit lines available abroad."
Source: La Verdad.