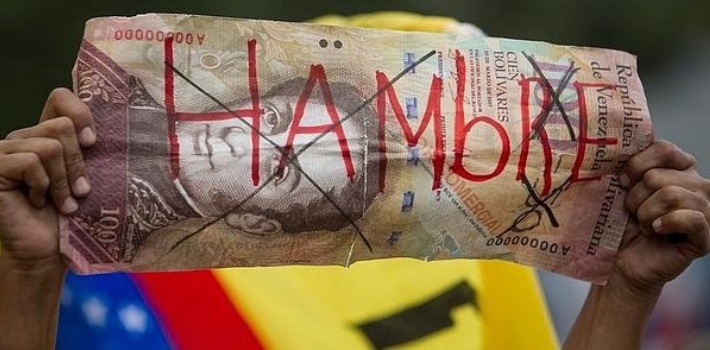 EspañolVenezuela's year-on-year inflation rate has reached 397.4 percent, according to unofficial data obtained by Venezuelan media from the Central Bank of Venezuela (BCV).
Venezuelan outlet La Patilla reported that the astronomical figure was revealed in a May 5 BCV board meeting to evaluate the severity of the country's economic crisis.
According to the website, "Variation in the National Price Index (inflation) in April stood at 18.7 percent and the accumulated inflation rate from January to April 2016 was 86.4 percent, the highest recorded by this institution for that period. Annualized inflation (the last 12 months, from May 2015 to April 2016) adds up to 397.4 percent."
Venezuela's economic crisis — which economists have blamed on policies implemented by the Chavista administration in power — has led to, among other things, food and medicine shortages resulting in rioting and looting.

The country's central bank has not yet released inflation figures for 2016. The last official data available corresponds to the first quarter of 2015.
The International Monetary Fund (FMI) predicts that Venezuela's economy will fall 8 percent in 2017 after shrinking 5.7 percent in 2015. The FMI's predictions suggest that inflation in the country will reach 720 percent in 2016.
Social Unrest
Given the critical situation facing the country, Venezuelans have resorted to desperate measures to acquire basic necessities like food and medicine.
Last Tuesday, May 3, PanAm Post reported that people in the Venezuelan capital had taken to the streets in search of dogs, cats, and pigeons to hunt and eat.
Local media also reported on May 2 that Venezuelan soldiers had been killing goats of farmers in rural areas because they were not being fed adequately at military bases.
Last week also saw countless lootings of pharmacies, commercial centers, supermarkets, and food trucks — all while people chanted "We are hungry!"
Fuente: La Patilla.