EspañolApparently, Barack Obama's visit to Cuba was just what the island needed to kick off its popularity. In the last few weeks, it has played host to a concert, a fashion show, the filming of a Hollywood movie, and visits from international celebrities.
All of that happening while, behind the scenes, Raúl Castro's regime represses dissenters and the number of exiles continues to climb. Demonstrations and protests for the release of political prisoners — such as The Ladies in White and Unpacu — continue to be squashed and silenced.
On Wednesday, May 4, local press revealed that Kim, Khloé, and Kourtney Kardashian as well as rapper Kanye West had arrived to the island to get to know Cuban culture.
This Wednesday also saw Charlize Theron arrive to Havana to participate in the making of Fast and Furious 8, which started filming a week ago.
And that's not all, because Tuesday, May 5 was the Chanel fashion show at the Paseo del Prado de La Habana, which featured models Stella Tennant and Gisele Bundchen.
American actor Mark Sinclair Vincent, best known as Vin Diesel, arrived to the event wearing a traditional Cuban "guayabera" shirt in a classically old car from the 1950s.

"When I was here in Cuba 17 years ago," he said, "I promised to bring Hollywood here, to bring it the world's greatest films."
After Obama's visit at the end of March, the Rolling Stones played a concert on the island, an event that was attended for free by thousands of Cubans.
And on Monday, May 2, the first cruise ship from the United States made its way to the island carrying 700 passengers — the first of its kind in over 50 years.
At Least 1,380 Political Arrests in April
By the end of April, the Cuban Commission for Human Rights and National Reconciliation (Ccdhrn) confirmed that at least 1,380 politically motivated arrests had taken place on the island.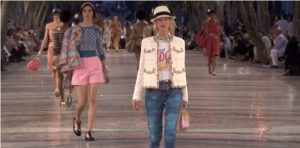 In the first four months of 2016, at least 5,351 political arrests have been documented by the organization.
The partial list released by the Ccdhrn identifies 82 names incarcerated for so-called "crimes against the state."
A few days later, that figure increased after four other women were arrested yelling anti-government slogans near the capital building.
Source: CiberCuba.