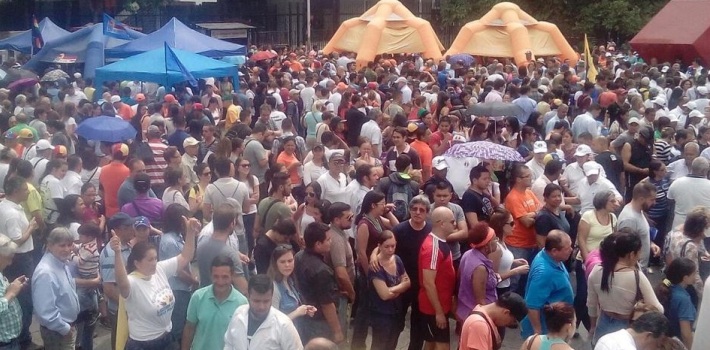 EspañolThis Wednesday, April 27, Venezuela began signing a referendum to recall President Nicolás Maduro.
The arrival of a bill to the National Electoral Congress (CNE) started the referendum process, although there are still several steps that need to be taken before the second, popular vote.
The Venezuelan opposition represented by the United Democratic Organization must be delivered within the next 30 days and needs 195,721 votes countrywide.
Once the CNE receive the signatures, it will proceed to verify each of them and determine whether another vote must be taken, which would need to receive at least 20 percent support — or four million signatures.
The long lines Wednesday were transformed into massive crowds at certain points, as people waited to sign. Through social media, Venezuelans posted the hashtag #YoFirmoYoRevoco with photos of people mobilizing to revoke Maduro.
Así está Valencia para firmar contra Maduro. #Tijerazo #YoFirmoYoRevoco pic.twitter.com/KZNsxUuQsR

— Lohena Reverón (@lareveron10) April 27, 2016
Hola @JacquelinePSUV ¡ESTA COLA SÍ ES SABROSA! Todos firmando por el revocatorio de @NicolasMaduro #YoFirmoYoRevoco pic.twitter.com/mowmORgjKH

— Manuela Bolívar (@manuelabolivar) April 27, 2016
Leaders of the opposition said the collection of necessary signatures would be reached in a few hours due to the thousands of Venezuelans that desire a change to this crisis.
President of the National Assembly Henry Ramos Allup said that since the start of this process, people have been threatened into not signing.

"They have already begun to terrorize the ministries and court employees … but this is an unacceptable abuse. We are saying to the public employees that are left that whoever wants to sign should do so," he said.
They hope that in the next few hours, the Venezuelan opposition with get enough signatures to the CNE to authenticate them and thus be able to take the process to the next step.
Fuente: Sumarium.