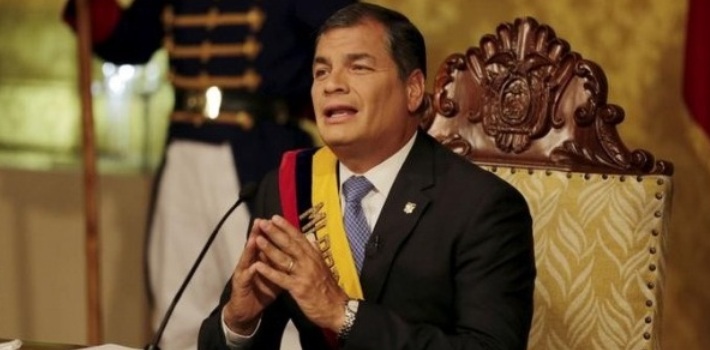 EspañolOn Wednesday April 20, President of Ecuador Rafael Correa announced five economic measures to counteract the damage caused by the earthquake that struck on Saturday, April 16.
Correa said on radio and television that there will be a tax hike of two percentage points in the Value Added Tax (VAT). That means that the VAT will rise from 12 percent to 14 percent, and will be valid for one year.
Similarly, he announced a one-time, three-percent tax on profits, and a 0.9-percent tax on individuals whose capital is greater than US $1 million.
The fourth measure will be the contribution of one day of work for one month for those earning more than US $1,000; if the person earns more than US $2,000, they will have to give this contribution for two months. However, if the person earns more than US $5,000, they will have to contribute five days of their salary.
As a fifth measure, the president said the government will seek to sell some of its assets, which will serve to address the damages and costs caused by the earthquake.
A "hurt" economy
Correa estimated the losses caused by the earthquake to be around US $3 billion, equivalent to the three percent of the gross domestic product.
The earthquake, which so far has killed more than 550 people, also left a "deep wound" in the Ecuadorian economy.
It is the worst recorded earthquake Ecuador has had in 40 years — a disaster that will shrink its finances to a seven-percent level this year, thanks in part to the country's dependence on oil prices.
"Losses are in the billions" Correa told reporters. "I estimate roughly US $3 billion, (and) 3 percent of GDP, and that means reconstruction for years. It's a long fight, so I urge you not to lose your hearts."
With a US $98 billion GDP, the Ecuadorian economy grew 0.3 percent in 2015 due to the continued fall in oil prices. But analysts predict the earthquake will most affect public debt and the service sector.
Ecuador is a dollar-backed economy, and its central bank cannot issue money to finance expenditures, in this case to address the magnitude of the disaster.
According to experts, the reconstruction of the damages caused by the earthquake must be financed by international loans, which will raise the current public external debt, which stood at 20.4 percent of GDP in December 2015.
Expert Analysis
Olivia Díaz Granados, Director of the  Colombo-Ecuadorian Chamber, told Colombia's The Republic that the province of Manabi, the most affected, is an area that bases its economy mainly on agriculture, fishing and tourism; for that reason, tourism, "will be one of the hardest hit."
Juan Pablo Fuentes, an economist from the American firm Moody's Analytics, told to El Tiempo that Rafael Correa's government " has made mistakes with the the treatment of investors and has missed out on diversifying the economy, causing more imbalances."
For Fuentes, to repair areas devastated by the earthquake will require more than US $600 million, which the Ministry of Finance announced it will receive almost immediately by multilateral agencies.
Edward Glossop, an economist from Capital Economics, said losses caused by the earthquake could reach up to 30 percent of GDP, very similar to those suffered by Chile and Haiti.
Glossop reported that in these countries, the construction of roads, houses, bridges, viaducts, utility networks, among other factors, cost between US $15 billion and $30 billion, respectively.
For his part, economist Alberto Acosta emphasized how costly it will be to recover damaged infrastructure. "(It) is not going to stop production and will in no way justify the economic downturn. But in these circumstances, rebuilding everything will be much more difficult, more expensive, because there are no resources. "