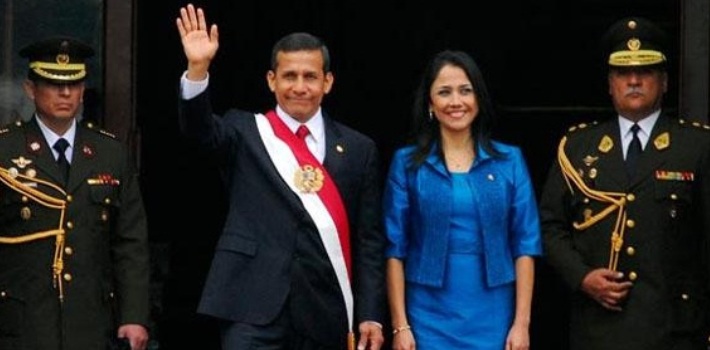 EspañolThe Peruvian Congress' Oversight Committee claims it has found evidence that suggest that First Lady Nadine Heredia may have laundered money and evaded taxes.
The commission issued a report on April 19 that recommends the Public Prosecutor's Office and the judiciary to investigate Heredia, as well as to forbid her from leaving the country.
"What Heredia declared to the tax agency Sunat, and the income and expenditure found in personal documents, shows a huge inconsistency that could point to money laundering and other related crimes, which merits a criminal and very extensive investigation by prosecutors and the judiciary," a statement read.
According to the commission, the First Lady had readily available cash of illicit origin, as well as several safety deposit boxes.
The legislators arrived at this conclusion in part by contrasting her declared income for 2005-2015 of PER$956,838 (approximately US$294,000) and the much higher amounts in euros, dollars, and Swiss francs found in personal notebooks.
In addition to the First Lady, 25 other people stand accused, including her brother Ilan Heredia and former presidential candidate Verónika Mendoza, who allegedly wrote down information in the First Lady's notebooks.
"It is necessary to clarify the degree of [Mendoza's] involvement… At first, she denied the authorship of the annotations, stating that she knew nothing of the notebooks, then that she never wrote in notebooks that were not hers, later admitting that 'it may be possible that I wrote in those notebooks', " the report argued.
Potential Bribes
Another investigation by Perú's Prosecutor's Office is trying to ascertain whether President Ollanta Humala himself received illegal contributions during the 2006 and 2011 presidential campaigns.
The main evidence has been found in the notebooks, which the president's wife reported stolen from her office. The documents then turned up in the hands of former Congressman Álvaro Gutiérrez, who claimed they were relevant evidence for the ongoing money-laundering investigation since 2015.
One entry that caught attention of investigators was one involving Odebrecht, the multinational company caught up in the massive kickback scheme at Brazil's oil firm Petrobras: "Meeting Mr. Jorge Barata, Odebrecht's representative in Peru – OH"
Apparently, in 2010, when Humala was not yet president, he met with Jorge Barata, Odebrechet's top official in Perú.
The notebooks implicate the presidential couple in receiving funds from "ghost" contributors during the 2006 and 2011 presidential campaigns to the tune of US$8 million.
Even the President of Venezuela Nicolás Maduro is supposedly mentioned under the moniker 'Nico' as a source of financing.